A well-designed backyard is so inviting! You'll want to spend hours outside. Are you looking for ideas? Here's a list of decorative details that will make your recreational space the ideal place to enjoy life.
[caption id="attachment_17220" align="alignright" width="200"]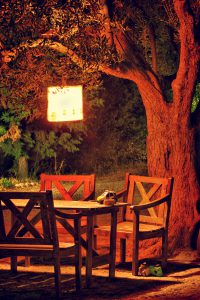 iStock[/caption]
Trees are the focal point of any outdoor design. Choose your tree species carefully because they don't offer the same decorative potential. The tortured trunk of an oak tree, the slender trunk of a poplar tree and the drooping branches of a weeping willow tree look nothing alike. If there's already a tree in your backyard, why not plant flowers around it? A sober tree emerging from a super colourful floral design always looks stunning. A paved circle or one made of small stones will serve as a place to linger. Use plants of your choice to form a second circle around it and place a bench somewhere in the midst of it all.
You'll only need a few shrubs to provide depth in the backyard. A tiny woodland allows you to create a clearing to welcome guests in a setting decorated to your taste.[……]