[caption id="attachment_354" align="alignright" width="389" caption="Source: iStockphoto LP"]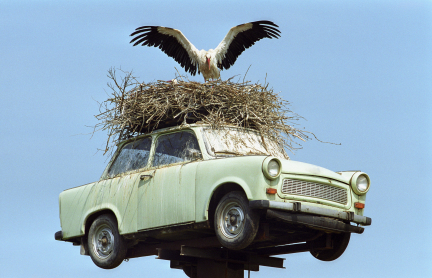 [/caption]
No, not a Trabant, the odd East German car affectionately dubbed the Trabi, but an enormous stork nest!
In Europe, three species of storks prefer to make nests on rooftops rather than in trees according to Wikipedia.
In the GeoGuide de la Croatie, you discover that there's even a European stork capital in the Lonjsko Polje National Park, in the small village of Cigoc. How many years do you think a stork nest can remain attached to a roof? 1, 5, 10, 25, 50, perhaps 100 years?
If you guessed 50, you're right. That's half a century!
And how much does a nest weigh on average? 10, 50, 100, 500, 700 or 1000 kilograms?
700! That's 1,543 pounds!
Imagine that on your roof! The structure of the house better be solid if you don't want to have storks landing in your living room like Santa Claus.[……]