For over 30 years, Via Capitale has been an essential part of Quebec's real estate scene and has built a solid reputation thanks to its humane approach, its services that are geared towards customer service excellence, social involvement and its strong innovative skills.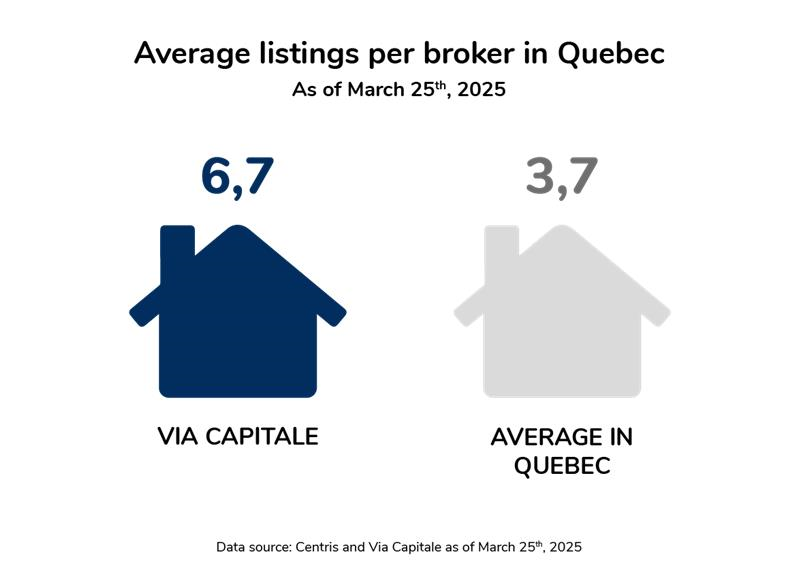 Although it was founded in Quebec, Via Capitale is also expanding internationally thanks to various strategic alliances in the United States, Mexico and the Dominican Republic.
Via Capitale is a brand of Bridgemarq Real Estate Services which has nearly 19,000 real estate brokers in Canada.
MORE PEOPLE TRUST VIA CAPITALE
Average listings per broker in Quebec
As of September 7, 2019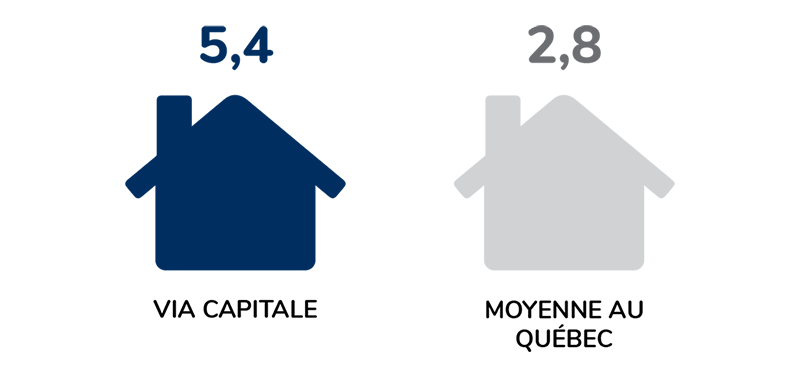 Source: Data are from Centers and respective banner websites as of September 7, 2019.
The performance of Via Capitale's brokers is not only due to their constantly renewed expertise, thanks to our training program and their service offer which evolve according to the needs of consumers and market trends, but also their constant desire to provide a satisfying experience for their customers.
Via Capitale is the only banner to survey all its customers to measure their level of satisfaction.
Thanks to this closeness to our customers, Via Capitale is often at the forefront when it comes to the services we offer. In 1991, our customers were the first to benefit from a complete Protection plan covering breakage and defects, delays, withdrawal or loss of employment.
To learn more about our Protections program, click here.
VIA CAPITALE, AN ENGAGED BRAND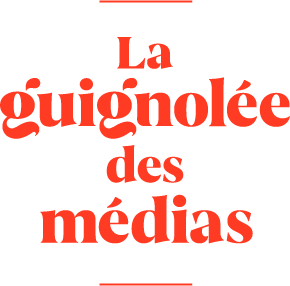 Since 2015, Via Capitale has been partnering with The Media Food Drive, an organization that helps the less fortunate people of Quebec.
The members of the network get together every holiday season to collect food and cash donations in the various Via Capitale offices and take to the streets to participate in the big collection day in early December.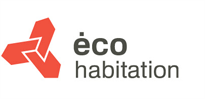 Via Capitale is also the first real estate banner to establish an EcoResponsibility program and take concrete steps to offering a specialized service to its clients.
You can now contact a Via Capitale EcoBroker for your questions and/or real estate projects related to sustainable housing.