Halloween is behind you. You stored the scary decorations and are planning your happy holiday selection.
Now it's time to choose the decorating style that you'd like to install outside your home—whether you live in a house, a rental, an apartment, a condo or a cottage. All homes look good illuminated with Christmas lights.
Most people like to use strands of lights because they're easy to put up. It's useful to know that according to Statistics Canada, LED bulbs are 90% more energy efficient than incandescent bulbs. What's more, light emitting diode lights reduce the risk of fire, are more resistant and last up to ten times longer.
Environment Canada suggests green solutions such as using natural elements to decorate your home. For example, you can create your own decorations with things like pinecones, pine branches, ribbons, popcorn or dried fruit garlands—all classic materials for creating a festive atmosphere.
Creating decorations with your family or your friends is fun. Not only do you make new things that are unique and original, you also create a festive atmosphere similar to that of the holidays.  You strengthen your bonds with loved ones while coming up with new decorating ideas.
On store shelves you'll find many varieties of inflatable lawn decorations. They set up quickly and brighten the facade of your home. If stationary, they use the equivalent of a 100-watt bulb. Energy consumption is higher if they have moving parts.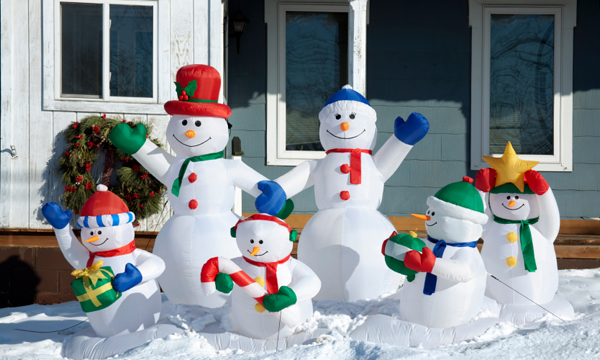 If you have no qualms about the environment, synchronized musical Christmas lights are an original way not only to decorate but also to enliven your holiday-themed house. Need ideas? Take a look at the displays shown on YouTube. Amazing!
Whatever your choice, it's the love and joy you put into creating your holiday scene that will give your property a welcoming impression.