To reconnect with your inner child and find comfort in this uncertain time, there's nothing better than decorating your home for the holidays.
Besides, the Christmas atmosphere is so comforting that we should take it all the way to the bedroom. It's impossible to have nightmares in a beautifully decorated room! Are you lacking ideas? Why not adapt one of these decorative inspirations to your home?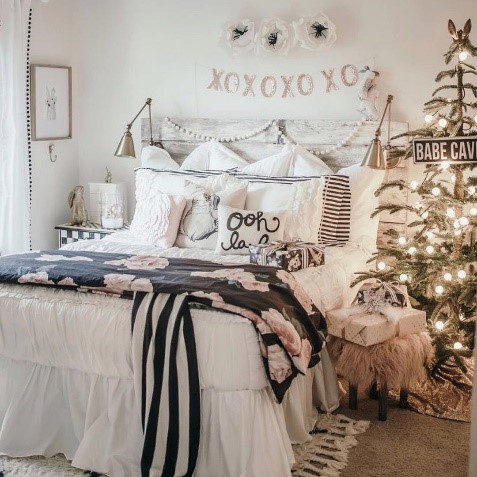 1- Pearls: Winter Softness
To transform this room, the owner added only three elements: pearls, a lit up Christmas tree and a nicely wrapped gift. But with only these few changes, the decor is completely different. The presence of white pearls at the head of the bed and in the tree adds softness to the decor.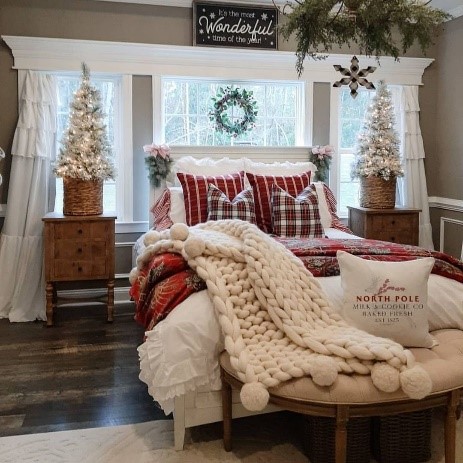 2- Plaid in The Spotlight
Plaid is popular in Christmas decor. In this room, the owner swapped regular decorative cushions for red plaid ones. They also added large-meshed, cozy throws for a cocooning effect. The two trees on the bedside tables and the greenery on the wall complete the decor.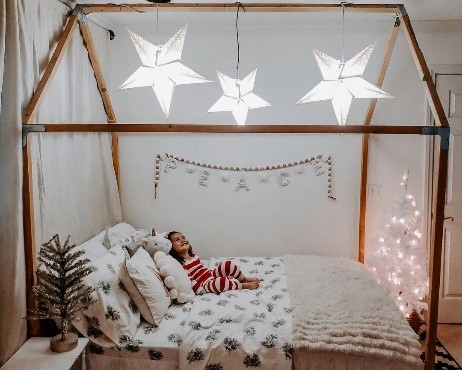 3- Oversized Stars
Children are often the most captivated by the magic of Christmas. Decorating their room is ideal for allowing them to feel even more wonder. Sometimes one or two accessories is enough to create the desired look. In this room, what catches the eye are the twinkling stars. It's beautiful!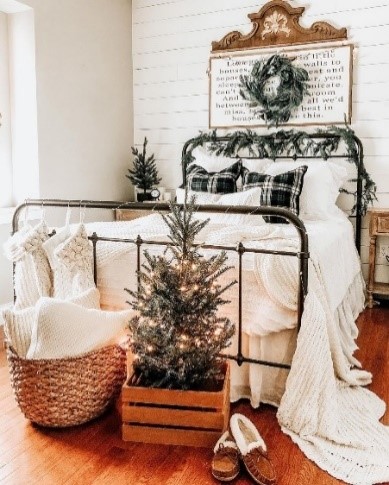 4- Garlands of Greenery
By combining wood with forest green and cream-colored accessories, you obtain a chic countryside type of decor. If your bed base allows for it, surround the frame with garlands of greenery, such as fir branches. Adding a wreath on the wall will also look beautiful. Christmas stockings were also added: how lovely!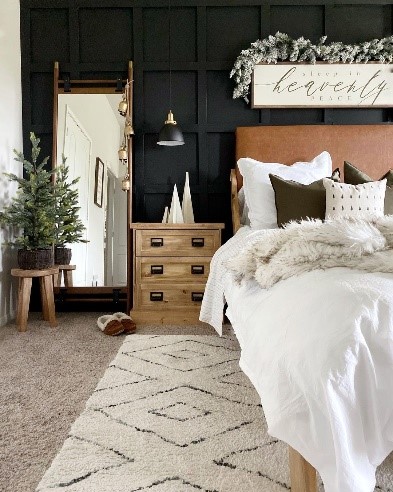 5- Chic and Discreet
Are you aiming for subtle, unconventional Christmas decor? Focus on minimalist accessories such as geometric prisms reminiscent of fir trees. A few golden bells hanging on a mirror or ceiling will also set the tone. Lastly, a frosted garland can help complete the decor.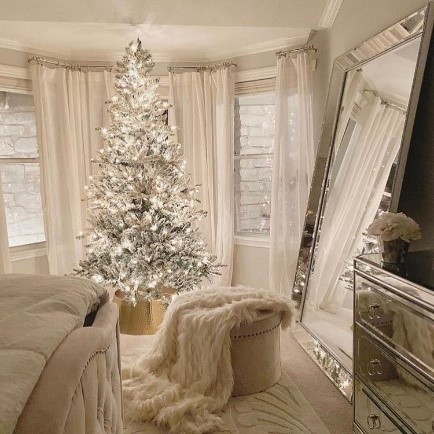 6- White and Silver
Is your room decorated in all white and silver? It will be easy to transform for the holidays! A large white artificial fir tree or a regular tree decorated with white accessories will be perfect. The lights will reflect on all the stainless-steel objects and create a magical effect.
Bows, fir branches, sparkling lights, soft, wood, gold or silver accessories are all welcome in holiday decor. Just add a few objects to your room to transform it. Don't miss out on all the fun!