[caption id="attachment_10160" align="alignright" width="300"]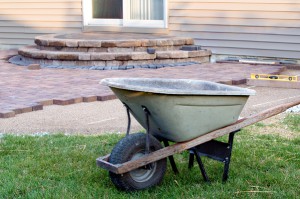 iStockphoto LP[/caption]
The summer season brings a panoply of ideas to improve our outdoor environment. The patio is often at the top of the list, because it's so practical for meals and for taking a minute to relax.
If you want a patio that will pass the test of time, while maintaining an elegant look, the most important thing is to install a foundation that will support the selected material.
First, outline the perimeter of the patio that you want to build and determine the height.
Then dig to a minimum depth of 18 inches.
Line the bottom and sides of the excavation site with a landscaping cloth that will prevent the crushed stone foundation from mixing with the ground while allowing water to flow through to ensure proper drainage.
Spread about four inches of 0-3/4 crushed stone (which means that the size of the stone varies between zero and three quarters of an inch in diameter), and use a plate compactor to compact it. Repeat both steps until the patio is level, less the thickness of stones used, plus one inch.[……]