It's astonishing! There are things difficult to describe with words. What do you think about this ceiling?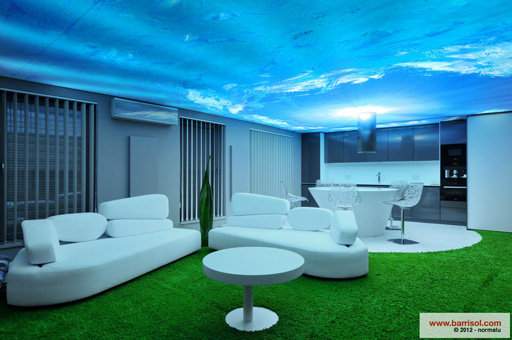 When you think about basement ceilings, you usually visualize a suspended ceiling. Practical and ingenious, the suspended ceiling gives you access to pipes and electrical wires. For the esthetics however, forget it.
So what are the alternatives? The possibilities are endless. There are tiles that can be transformed according to current styles, with colours, inlays and suspended objects. Shiny copper tiles and fabric tiles with varied shapes and colours caught our attention.
Apart from typical textured tiles that maintain the supporting structure, a wood slat ceiling can really up the wow factor, and even make you forget you're in a basement. However, a wood ceiling does require a bigger investment.
Our curiosity finally led us to a totally unexpected alternative: the stretch ceiling, from the Barrisol Canada company. Winner of the Contech Jury's Favourite award in 2012, this Quebec product is impressive for its resistance, originality and environmental aspects. The stretch concept gives old suspended ceiling panels new life by covering them.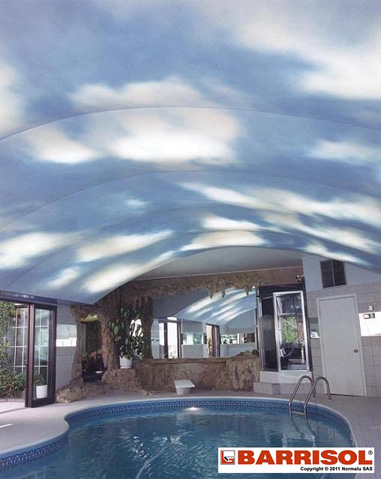 A stretch ceiling is a flexible PVC sheet that is tightened under pressure using heat. The sheet is 7% to 10% smaller than the surface to be covered. During installation, the sheet is stretched to adjust as much as need be. The system provides for conventional ceilings, as well as diverse forms such as slopes, arches and curves.
In Quebec, Barrisol creates and installs stretch ceilings, which have been sold in over 110 countries. The family business in Thetford Mines has been an industry leader in Canada for over 20 years. Be forewarned however: you could spend hours browsing their website discovering the range of possibilities that the technique offers.
In addition to the many colours that can be tested online using the Barrisol colour simulator, you'll also see different textures. The stretch method improves not only esthetics, but also acoustics and even insulation if necessary.
For comparison purposes, we visited websites of other companies that offer this type of product, like Extenzo and Newconcept. We even searched the web to learn about any problems with the product. No problem was found.
Photos: Barrisol Canada