The Hobbit house has inspired the imagination because of its close ties with nature: grass on the roof, wood door, stone, dry mud, branches and other materials.
Artisans have reproduced the Hobbit house which, to a certain degree, has existed for a long time, as it is thought that author J.R.R. Tolkien largely based it on Viking houses, whose best preserved prototypes are found in Iceland.
In a decorative world, designers have more or less consciously pushed the concept of the Hobbit house further. It's as if they invited nature to penetrate inside to create a new style of decoration.
The Earth House article in Wikipedia shows an interior that will make you smile. The contours of the window are astonishing. There's little room for angles. Everything curves, as angles are rare in nature. If you read the article, you will also see many examples of the exterior of an earth house.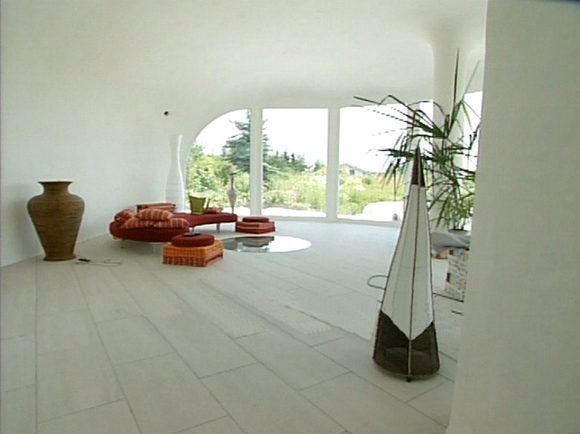 The major obstacle: interior layout can be challenging because you have to consider where to place the furniture.
Organic decoration will expand. Let's take a look at the first steps in this innovative style.
Seen recently: a narrow band of stones along the edge of a wood floor in an entry hall with an open area over the dining room. The "path" was about six inches wide. It was at the same level as the wood floor. How often do you see a path cross the middle of a room?
At one end, the interior path widens, transforming into a square. There was earth in the square. A cactus was standing in the earth. You can grow whatever type of plant you want.
What about the interior gardens! In some places, there are palm trees on a path cuts through the garden. The perfect place for someone who loves the odor of earth and is crazy about nature.
Seen many times: frames with three hollow rectangles with plants growing inside. Exotic plants are often used. It's a very popular concept in Europe. The only inconvenience: maintenance.
Seen in a clothing store in Berlin: a tree trunk, cut in two along its entire length, from the sidewalk to the inside mirror which customers file by to observe. Customers wander on the trunk. With a little imagination, you could replicate the designer's idea in your own home.
The concept of the transparent narrow partition over which a thin film of water runs is very popular. The use of lighting gives it contours. Disciples of Zen love it!
One owner told us about how she obtained butterflies from the Montreal Insectarium, which she placed in jars with air holes before "storing" them in her spice rack.
If you're not afraid of reptiles and amphibians (frogs, etc.), terrariums add an organic look with their strains, waterfalls, miniature jungles, deserts, plants and rocks. These terrariums blend very well with book shelves, low tables and other pieces of furniture.
A space that is not well-used in North America: the attic. In many countries, it abhors emptiness. This is a space that has a bright future in organic decoration.
Reference: Earth House article in English Wikipedia
Photo: Wikimedia commons, Creative Commons Attribution-Share Alike: Archi0780