You're walking by the sea, under the sun with your feet in the turquoise water. A warm wind musses your hair. You look up, and in the distance, between the trees, you see ten strange shapes that remind you of giant screens, or blowing sales, or wicker seatbacks, or roosters. They are very high, up to 30 metres. And you wonder "What is that?"
When you look at the site, through the window you see ten strange forms lining a centre aisle, empty inside, but with a sloped surface at the bottom. It looks like ten giant baseball gloves catching the sun and the wind. And you wonder "What is that?"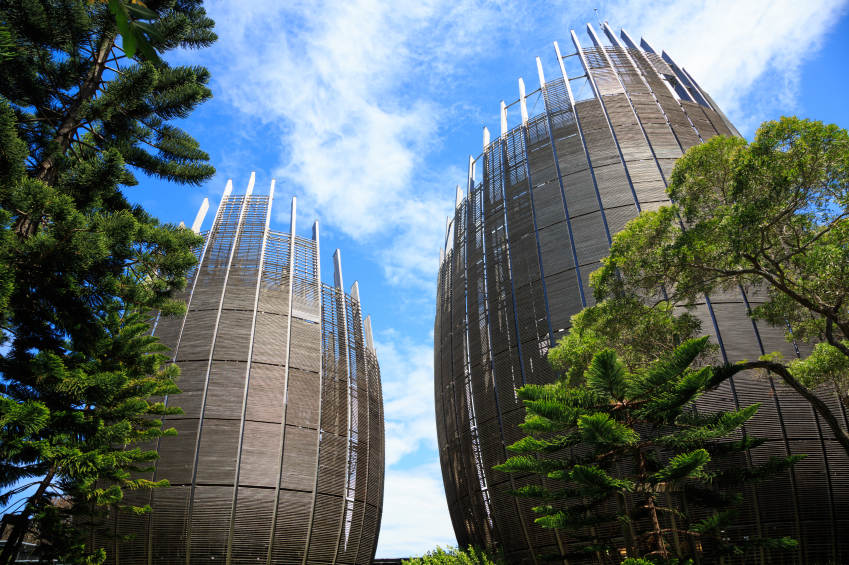 It's a cultural centre. Maybe the only one in the Pacific islands. Nothing like the one in Gatineau, Gaspé or Châteauguay. This is New Caledonia, in the heart of the Pacific, on the other side of the planet. That means a different culture, different architecture and, most of all, a different climate.
A bit of history. New Caledonia belonged to colonial France. One day the wind of independence blew in. The trouble started. A local leader, Jean-Marie Tjibaou, is assassinated in 1989. France ends up recognizing the kanake culture, as Tjibaou had requested.
To seal the reconciliation, France decides to dedicate the kanake culture by building a cultural centre. Italian architect Renzo Piano obtains the contract. His achievements include the centre George-Pompidou in Paris and the reconstruction of Potsdamer Platz in Berlin.
His project is crazy: combine modern architecture and the kanake culture. Pencil in had, he draws what comes to mind while listening to an anthropologist tell him about this culture that he knows nothing about. On site, he notices that the violent winds of the Pacific and the generous light form a body with the islands.
The site retained is a very narrow strip of land separating the ocean from a lagoon, on the outskirts of the capital: Nouméa.
Inaugurated in 1998 and bearing the name Tjibaou, the cultural centre is made up of ten wood and steel structures, 20 to 30 metres high, whose head resembles a hut. Each of them contains box whose circular roof is flat and sloped.
Each of these ten boxes contains a place to share the kanak culture: a place for exhibits, a place for conferences, a media library devoted to the media, a media library devoted to books, a place for concerts, workshops and even a school.
The ten huts are spaced in groups of three, making up three villages. They are connected by a path.
Night and day, these ten huts turn their back to the winds and tropical storms of the Pacific. Light in appearance, they are strong since, like a reed, they bend without breaking. Apparently the wind blowing through the wood strips makes astonishing music.
The cultural centre therefore benefits from natural ventilation. The wind blows into dormers that open and close as needed.
Who would have ever thought that a hut would one day make its way into modern architecture?
New Caledonia is not a little-known country. If you're interested in adventure, the Petit Futé is a complete guide.
Photo: iStockphoto LP
References:
Nouvelle-Calédonie, Petit Futé, 2013, 354 pages
Centres culturels, architectures 1990-2011, Actes Sud, Cecilia Bione, 2009, 278 pages
Piano, Philip Jodidio, Taschen, 2012, 96 pages
Renzo Piano, Matteo Agnoletto, Actes Sud, 2009
Penser la ville heureuse, Renzo Piano sous la direction de Ariella Masboungi, Projet urbain, éditions de la Villette, 2005, 143 pages