A hotel located at the junction of two rivers with a rich history, the Blue Nile and the White Nile, cannot be massive, brutal or ugly. It can only be light, aerial, and futuristic. Qualifiers that the Corinthia Hotel Khartoum, also called Burj al-Fateh, proudly wears.
Plump and round, the 5 star hotel is shaped like a sail inflated by the wind of two rivers. That was supposed to be the architects' original idea. Are we wrong?  Since we're on the topic, let's put forth another hypothesis. The architects were inspired by the famous Burj al Arab sail, the 7 star hotel (classification not officially recognized) inaugurated in December 1999 in Dubai. The Khartoum hotel opened its doors on August 17 2008. The work began in 1994.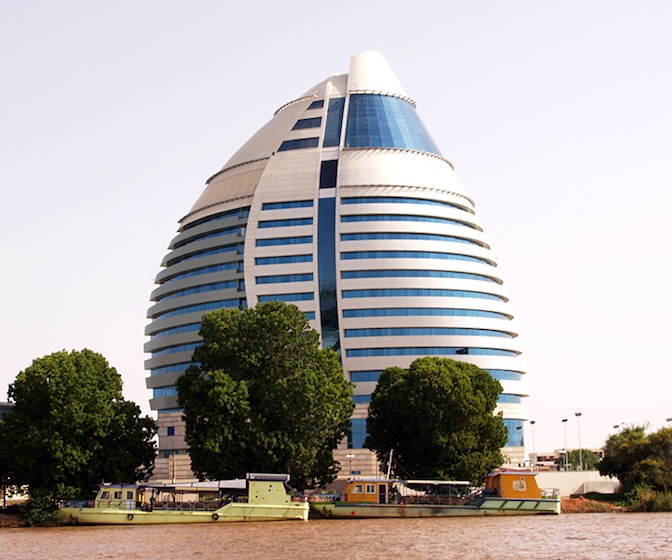 Using the sail concept not new. The city of Barcelona, Spain also set sail with its Vela Hotel. Donald Trump was also tempted by the onshore wind with his Trump Ocean Club International Hotel and Tower in Panama. Other buildings carried by the wind include the Vasco da Gama Tower and the Spinnaker Tower in Portsmouth, Great Britain.
The Corinthia Hotel Khartoum has been given a strange nickname: Gadhafi's egg, named after the former Libyan dictator, Muammar Gadhafi, killed on October 20, 2011 during the people's revolution. The reason for it is that Gadhafi financed the construction of the hotel through his government. The cost: 80 million euros.
Either the inhabitants of Khartoum find that the building's oval shape resembles an egg, or the metaphor evokes that the former dictator "laid" the egg that is the hotel. The egg's blatantly alimentary side clashes with the romanticism of the sail to take ownership of the nickname. The nicknames often take on mysterious twists and turns.
The Corinthia Hotel Khartoum contains 173 rooms and 57 suites. Each room has a panoramic view of the Nile. Six restaurants, cafés, spa, gym and tennis and squash courts complete the interior.
Khartoum is the capital of Sudan, Africa, which borders Egypt to the south.
References:
Wikipedia : Corinthia Hotel Khartoum, Wikipedia
Photo: Nick Hobgood, Wikipedia Commons