It was an iconic place during Flower Power, the excesses of the sexual revolution and the Peace and Love movement. Like some hippies, the building refused to grow old, always keeping one foot in the 60s. That's fortunate, otherwise the Chelsea Hotel would be just another hotel among many others today. And it's not.
Built in the Chelsea neighbourhood of New York in 1883, the building lodged a housing co-op and was converted into a twelve-storey hotel in 1905. Since it's located in the theatre district, the Chelsea became the favourite of musical hall artists.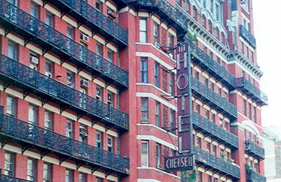 Just before the beginning of the 60s, the hotel established its niche by agreeing to house artists for free and for several years in some cases. Most of the hippie writers at the time were broke and it was at the Chelsea that the most illustrious of them, Jack Kerouac, settled to write a big part of what would become the landmark book of the hippie generation: On the Road.
The greatest example is still Czech filmmaker Milos Forman. In Prague, Forman was a protester, producing a new genre of film that irritated the communist government. Having been outside his homeland during the 1968 Prague repression, Forman was not allowed to re-enter the country. Puzzled, he headed to the Unites States, where he settled at the Chelsea, which welcomed him with open arms. He stayed for two years without paying for anything. Or paying very little anyway.
Forman would make the hotel popular by creating several famous films after he left: Hair (an ode to hippies), One Flew Over the Cuckoo's Nest, Amadeus. Protest films, in the image of the Chelsea.
French screenwriter Jean-Claude Carrière, Forman's collaborator, talks about his first visit to the hotel: "Like an enchanted cave, the Chelsea attracted all types of characters. A female director, whose name I don't recall, lived on the top floor in a little apartment where tropical snakes twisted slowly in the windows. She also raised iguanas and varans, antique reptiles brought in for novelty effect. There were quiet retirees, screamers, prophets, silent people, anonymous people speaking an unknown language and even a grey-bearded Indian guru."
Many artists have stayed at the Chelsea. We couldn't possibly list them all, but they include: Édith Piaf, Bob Dylan, Uma Thurman (Kill Bill), the Mexican artist-couple Frida Kahlo and Diego Rivera. Quebec singer Leonard Cohen wrote a song about the Chelsea, as did Joni Mitchell.
In fact, Bill and Hillary Clinton named their daughter Chelsea because they really liked Mitchell's song.
Why the "The hotel where excess reigns." Because the Chelsea temporarily closed its doors last year. The reason: The interior is dilapidated and the residents prefer to pay the rent of their artistic works. This likely signals the end of the mythical era of the Chelsea Hotel.