In Bora Bora, you take a nap listening to the ocean murmur under the floor. In Kenya, you lounge in your hotel room while lions, buffalo, cheetahs, hyenas and other wild animals walk under your feet. From time to time you take a look outside:  Look over there—it's a giraffe!
All of that thanks to construction on stilts (piles).
Carole and her daughter Catherine, a future anthropologist, returned from their trip to Kenya totally amazed. They brought back this photo of Sarova Salt Lick Game Lodge where they stayed during their trip to Africa. Do you know who built this unusual hotel? Hilton International—back in 1972!
Built on wood piles, the hotel allows tourists to observe the comings-and-goings of African animals without having to go on safari. The animals come to drink from a source located nearby. No harm is caused to the wildlife because the hotel does not block the natural migration routes.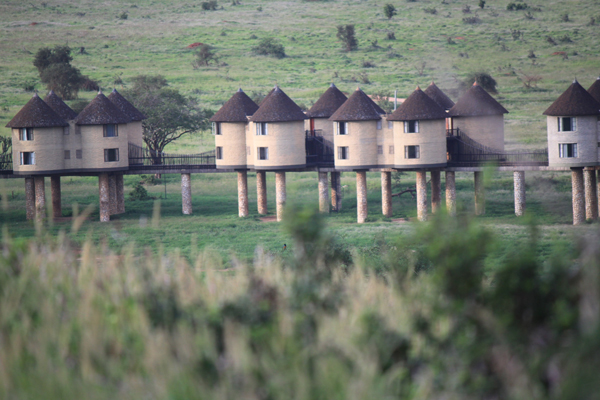 The region visited by Carole and Catherine is called Taita Hills Wildlife Sanctuary. It's southeast of Kenya, some 200 kilometres from the Indian Ocean and not far from the border of Tanzania. Kilimanjaro rises on the horizon.
The technique of construction on stilts was originally designed to allow human beings to be free from danger: wild animals, natural disasters, spongy soil. It dates back to prehistoric times. In recent times, the tourism industry quickly understood the commercial potential of this ancestral technique. Buildings on stilts flourish everywhere in the world for tourism operations, especially on lakeshores.
If bungalows on wood stilts allow you to enjoy the ocean in all its glory in Bora Bora, what's it like to rise above the ground to fully savour Africa? Perhaps you have to live the experience to really feel it.
To give us a glimmer of the sensation, author Pattie Boyd describes the memory of her childhood years in Africa: I loved Kenya. I loved the vast sky, the scenery that had no beginning or end, the incredible sensation of space and the sky, at night, full of stars that looked so close you could almost touch them. Lying on my bed, I listened to the night sounds… But what enchants me most about Africa is the smell. The smell of peppers, wild herbs, heat and dust. The combination is unforgettable. Every time I return to Kenya—something I do often as an adult—the smell I breathe in takes me back to my childhood.
References:
Majestueux Kenya, collection Club Méditerranée, Michel and Christine Denis-Huot, Éditions Atlas, 127 pages. Paris.
Wikipedia: Sarova Salt Lick Game Lodge
Wikipedia (French) for the article on stilts (piles).
Boyd, Pattie; Junor, Penny (2007). Wonderful Today: George Harrison, Eric Clapton, and Me. Headline Publishing Group
Photo: Casarazzi.