The first Earth Day was celebrated on April 22, 1970, and over the years it has become the largest environmental movement that people take part in around the world. In Quebec, this landmark day was first commemorated in 1995. Since then, Earth Day has gained influence, as members of the ecological community organize activities to raise awareness of pressing environmental issues.
Of course, the real estate brokerage industry is no stranger to this new environmental awareness. When building, renovating, or maintaining our homes, we all make choices that have an impact on our health and that of the planet. More and more people are questioning their choices and opting for energy-efficient homes built with environmentally friendly materials.
Since we spend an average of 90% of our time inside our homes, where the air quality is 3 to 4 times more polluted than outside, it is more important than ever to make sure that our homes meet current environmental standards.
The Via Capitale family takes the health of its brokers and clients to heart. In keeping with this idea, we also take environmental concerns very seriously.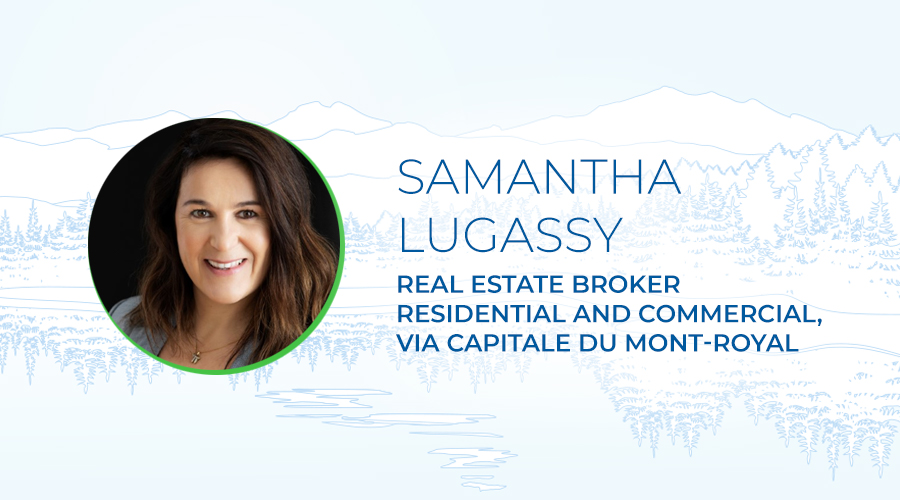 Samantha Lugassy: first winner of the Écocourtier "eco-broker" award
As well as having over ten years of experience in real estate, Samantha Lugassy, a residential and commercial real estate broker, is also a trained eco-broker who considers her ecological footprint within the context of her profession. "I try to travel by car as little as possible, so I mostly ride my bike, even in winter, or use public transportation. Since I live in the Plateau Mont-Royal neighbourhood, if I have to drive, I use my car. I should mention that I bought it for its fuel economy. That said, I also carpool with my clients and often offer to give them a ride. Sometimes I even ride my bike with my clients and usually, it's not a problem," says Ms. Lugassy.
This year, as the performance awards gala was being put together for the year 2021, a new award was created to highlight the ecological efforts of a broker working under the Via Capitale banner: the Écocourtier "eco-broker" award. Ms. Lugassy has become the first recipient of this new award.
She managed to stand out thanks to the practical advice she offers to her clients to help make them aware of ecological considerations. "When I talk to my clients during the purchasing process, I tell them about eco-renovation and how to avoid energy losses with proper roof and foundation maintenance. I also give them some tips on how to repair things in the house in the most environmentally friendly way. This is important to me, as I have managed to refurbish a few houses at a very low cost. Also, when I visit a house, although of course, I'm not an inspector, I can see very quickly what kind of work needs to be done. This helps me guide my clients as to the most ecological and cost-efficient way to go about it."
Environmental issues are at the heart of Via Capitale's entrepreneurial DNA
A few years ago, Via Capitale set up a training program called Écocourtier, or "Eco-Broker." Designed in partnership with Écohabitation, an independent organization that assists professionals and individuals in carrying out sustainable housing projects, this certification is intended to promote eco-responsible practices to better preserve the environment.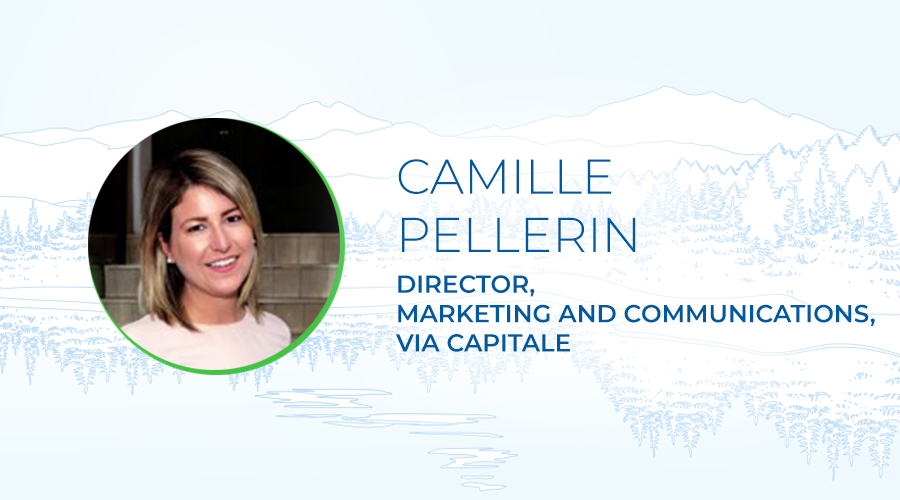 According to Camille Pellerin, Marketing and Communications Director at Via Capitale's head office, "An eco-broker is a real estate brokerage professional who has learned a lot about efficient and sustainable ecological housing. These integrated practices allow our clients to have access to a healthy living environment through renovations that meet environmental standards. Our brokers are trained on the components of a green home, how to renovate efficiently, the characteristics of the real estate market for green homes, and much more."
"Our brokers benefit from this training, as the market for environmentally responsible properties keeps growing. We believe that the green shift we have been making for the past few years involves training our brokers. The training is offered voluntarily, and the program is divided into three steps: training, certification, and continuing education," she adds.
In addition, with the advent of the new Écocourtier award, Via Capitale is positioning itself more than ever as a leader in the promotion of good ecological practices in the real estate market: "And this is not a secondary award," says Pellerin. "This award is as important as the monetary performance awards. This distinction allows other brokers to discover the winner's eco-responsible practices. However, I would like to point out that we also consider the reality of the broker when evaluating the applications. Regional disparities are considered."
Rather than shy away from these new ecological requirements, the real estate market must lead the way. On this Earth Day, Via Capitale would like to see everyone make an ongoing collective effort, in every economic sector, to offer a healthier environment to future generations. That is our firm conviction!