Do you want to keep ahead of trends in decoration rather than follow them? Take a close look at the inside of bars, restaurants and clubs.
What attracts your attention is likely to be on the front page of a magazine in the near future. Bars and restaurants are often ahead of home decoration trends.
Decoration professionals admit it. They take advantage of a happy hour or a meal with plenty to drink to visually explore a bar or restaurant's visual design.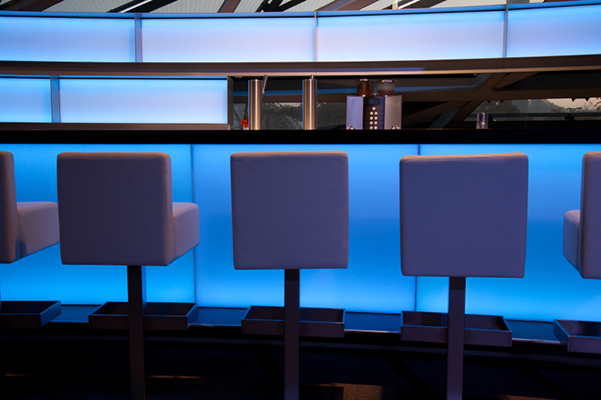 Invited to a reception in Old Montreal, a couple of professional decorators tell us about having been stricken by black wallpaper combined with a series of mirrors. You can imagine the rest. They used the same look in the entrance of their home. The black wallpaper and mirrors became the centrepiece of the entire interior decor, to the extent that the adjacent rooms fit with the entrance.
Because it's an apartment, the two decoration pros used their genius to make sure that the entrance isn't too dark.
Seen in a bar in Candiac: unfinished wood frames overlooking an ultra design building of curves and metal. A kind of alliance between the natural look and the modern look, with one highlighting the strengths of the other. Simple, chic, almost minimalist. No frills. This concept is appearing in more and more homes.
Another trend: stainless steel as a design element is spreading at breakneck speed in our interiors. There are endless stainless steel islands, appliances and electrical appliances.
Not far behind is the imitation brick wall. Regular patrons can tell you that bars and restaurants adopted the stainless steel and brick combination a long time ago.
Have you noticed that the number of bars with open kitchens is multiplying? This makes chefs visually accessible. Clients can watch them devote themselves to their art without the inconvenience of noise and odours, because they are separated from the kitchen by windows and glass doors. Sometimes there are glass walls. Home dining rooms recently started to adopt the trend.
Another trend: wood bars and restaurants, kind of like a cabin in the city. A number of lofts have stolen the idea. Often, a wall of treated planks precedes the real wall by a few inches. People hang their frames and portraits on the imitation wall. The effect is surprising.
Many restaurants have replaced classic cupboards with shelves. Certain European movies give the impression that houses on the continent started adopting this formula a long time ago. It's just starting to catch on in North America.
Glass wine cellars, popular in bars and restaurants, are taking houses by storm. Why hide what's so pleasant to look at? And so good to taste?
Obviously we can't be certain that all of these domestic trends come from bars and restaurants, but there are strong coincidences at times.
Have a look at books devoted to decorating bars and restaurants. These decors are often visually stunning and original.
Here are titles found at the Grande Bibliothèque de Montréal. The ideas are incredible and come from around the world. One of these titles is likely in your neighbourhood library or bookstore.
Make sure you read the publication date to see the evolution of the design to its entry in our homes!
Bars et restaurants, Carles Broto, éditions Links, 2013, 299 pages
Bars, cafés et restaurants, éditions Place des  Victoires, 2011, 549 pages
Restaurants et bars, l'architecture d'aujourd'hui, Philip Jodidio, éditions Taschen, 416 pages
Les plus beaux bars et clubs du monde, design et architecture, Bethan Ryder, Pyramyd, 2005, 192 pages
Décors de bars, Elsa Rocher, Atrium Group 2002, 572 pages
Photo: iStockphoto LP