It was love at first sight. The pure eyed beauty is justice. Her admirer is architect Joseph Poelaert. His love for the beauty was so great that he built an immense palace for her. In reality it's a monster. As the expression goes, it's the thought that counts.
We will never really know what the architect was thinking at the time. Driven by his project, he died suddenly of a stroke, four years before the inaugural ceremony.
Today, Belgians have a palace of justice that is sometimes called the behemoth. It's the colossal size of the building that makes tourists stop and ponder, not its esthetics. The interior is so vast that it's said that dozens of rooms are empty. The doors have been closed for a long time.
The palace of justice is still incomplete, but the behemoth is still alive. Each day, hundreds of lawyers and employees pass through its doors to preserve the pureness of justice. And that doesn't include visitors.
[caption id="attachment_10580" align="aligncenter" width="560"]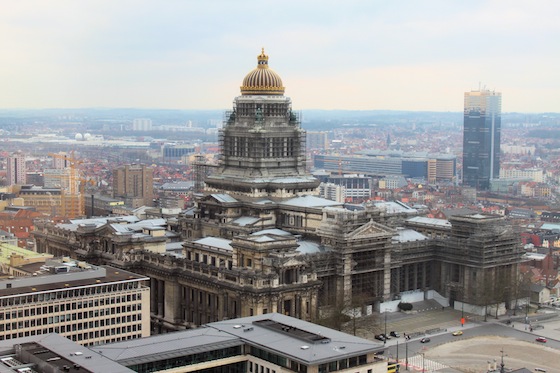 Exterior of the Brussels Palace of Justice: Wikipedia Creative Commons Attribution-Share Alike Martin Mycielski (Stansfield)[/caption]
What happened?[……]