Have you ever noticed that in epic movies, there is often a great scene where, as a spectator, you go through a natural gateway that leads to a mysterious kingdom?
The gateway can be an arch, two rocky columns, two huge fountains, two big trees leaning over a water course.
We can't wait to get to the other side to see what waits. In the Lord of the Rings for example, the community slides slowly over a river by going between two huge and imposing men sculpted in the rock.
Relatively speaking, that's the sensation you get from the two Kio towers in Madrid. From the top of their 114 metres and 26 storeys, they lean majestically over Paseo de la Castellana Boulevard. The two highnesses invite to step forward into a new world.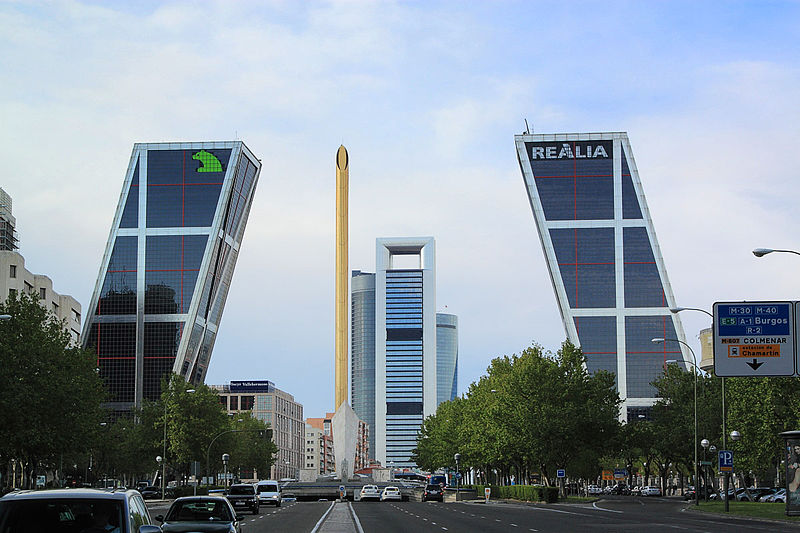 What is this new world? Nothing less than Europe. That's why they're called Europe's Gate. At least that was the wish of American architects Philip Johnson and John Burgee, who brought the two highnesses to life in 1996.
The twin towers lean 15 degrees. Each tower has a helicopter pad at the top. According to Wikipedia, the "Torres Kio" are the first leaning skyscrapers in history. They were built by the Kuwait Investment Office (thus the letters KIO), but the twin towers have since changed hands.
Notice the famous X on the outside of the building. It's in the same architectural style as the John Hancock Center in Chicago, the dark building we have already written about.
In the movie The Day of the Beast, the two towers are associated with the devil. According to the storyline, the Antichrist came to life between the two towers, on the Plaza de Castille.
The two towers have had a rough life. They are destroyed by an airplane in the Spanish movie Torrente 3: el protector. It seems that more than one filmmaker has been inspired by the tragedy that struck the twin towers in New York.
As impressive as it may seem, the two towers are not the highest in Spain. They are surpassed by the ones in Santa Cruz.
A 92-metre obelisk was added to the decor in 2009.