Do they dance the tango, the rumba or the foxtrot? At first glance, someone with a great imagination sees two dancers side by side. The dancer on the right has an arm wrapped around the waist of the dancer on the left. This is the image conveyed by the Nationale-Nederlanden office building, nicknamed the dancing building of Prague.
Imaginative people are right on all counts. It really is two dancers represented by two interlocked towers. The man is on the right (Fred) and the woman is on the left (Ginger). Fans of movie musicals guessed that the buildings represent Fred Astaire and Ginger Rogers, the famous American dancers.
When the building was inaugurated in 1996, the two towers were called Fred and Ginger, but Czechs prefer to call it the "Dancing House."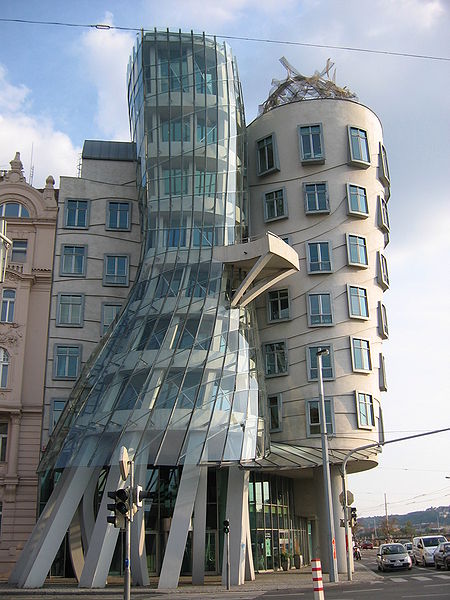 Note the bulge near the top of the right tower. It represents Fred's pectorals.
The femininity of his dancing partner Ginger is expressed by the curves and the choice of glass as construction material. The robust Fred is composed of 96 concrete panels that form a single monolithic block.
You can also see Ginger's beautiful legs at the foot of the glass tower. The pillars give the impression that they're doing a little dance step. There's also Fred's hat, made up of the dome at the top, which adds to the masculinity of the right tower.
Why was dance chosen as an architectural theme? To underline the festive nature of the 1989 Velvet Revolution, when Czechs were freed from the communist regime.
The idea flourished in the mind of writer Vaclav Havel, the famous communist-era dissident. Havel had lived in a building nearby. The site of the dancing house was bombed in the second world war and was left vacant for many years. When he became President of the Czech Republic after the revolution, Havel supported the project by Canadian-American architect Frank Gehry.
Even though Time magazine named the building "best design of the year" in 1996, the non-traditional design was controversial among Prague's inhabitants, which is often the case with architectures that are a tad eccentric. The building has finally stood the test of time. The proof: in 2005, the Czech National Bank minted a gold piece with the dancing building as part of its "Ten Centuries of Architecture" series.
Located on the wharfs of the Vltava River, the two towers are part of the multitude of towers in Prague, which is nicknamed the "city of one hundred towers."