The last Junior World Hockey Championship was held in Sweden's third largest city Malmö. Most players probably looked up at this building that twists from top to bottom. The top of the building has a 90-degree twist with respect to the bottom floor.
The twist is made up of nine giant cubes. Each cube is composed of six storeys and is angled in relation to the other cubes.
The Turning Torso is a residential building inaugurated in 2005. At 190 metres, it's the tallest skyscraper in Sweden, and even in Scandinavia. It is the second tallest residential building in Europe.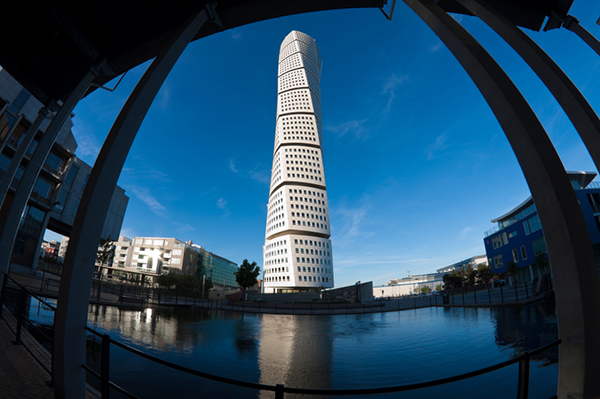 These buildings that give the illusion of movement are fascinating. And they are becoming more and more popular. They are probably a sizeable challenge for architects, such as the Dancing House in Prague and the sail hotel in Dubai and Sudan. According to Wikipedia, there are two other twisted buildings on the planet: the Cayan Tower in Dubai and the Chicago Spire in Chicago.
The Turning Torso is a work of art inspired by another work of art. At the turn of the century, the Malmö authorities were looking for a unique and spectacular building to give the city a powerful symbol that would attract global attention.
Admiring a sculpture called Twisting Torso, a white marble piece based on the form of a twisting human being, a Malmö official asked its creator, Spanish sculptor Santiago Calatrava Valls, if he could create the same effect around a building. An architect as well as an artist, Santiago accepted the challenge. That's how the Turning Torso came to be.
The building contains some 150 apartments. The two top floors are made up of offices. On August 18, 2006, Austrian daredevil Felix Baumgartner added another exploit to his list of stunts when he parachuted onto the Turning Torso.
If you plan to visit Denmark someday, once you're in Copenhagen, all you have to do is cross a small stretch of water to get to Malmö. The Turning Torso is near the city's port.
References:
English and French Wikipedia Turning Torso articles
Danemark, Suède, Le Routard, Hachette, 2013, 579 pages
Suède, Lonely Planet, 2012, 383 pages
Photo: iStockphoto.