Natural stones such as marble, granite and onyx offer a thousand and one renovation possibilities. These noble materials liven up your decor.
You can use them to change your counters, dinner table, coffee table, and flooring, whatever you like. Try something different and go out and discover the stone that inspires you.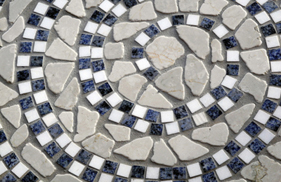 Many natural stone importers offer you a considerable choice among dozens of varieties of marble, granite, onyx, travertine, etc. In the 80s we went to a workshop to choose the piece of onyx that "spoke" to us. Those who are passionate about this semi-precious stone rich in colour develop a relationship with it.
You can get a virtual glimpse of this relationship on the Marbretcetera site. Who knows, the creamy transparency of onyx may inspire you. The archeologist in you will want to research the language of time through the earth's strata etched in this granite. The esoteric in you will prefer to read signs in the orange-hued lines of granite like the lines on a hand. Artists will be swept away by the blues of a raging ocean. Neophytes will be awed by the numerous levels of beauty, especially the calcite grooves that resemble wood.
Your choice will also be influenced by criteria other than aesthetics: price, maintenance and purpose.
Prices vary between $15 and $300 per square foot. The stone's price is affected by its rareness and fragility. But you have to be able to obtain it and maintain it properly. Maintenance depends on the stone's porosity. Cleaning products should have a neutral PH, without a trace of acidity. Polish using a soft cloth and glycerin (or linseed oil). You can also find specially designed products for each category of stone in specialty shops.
A dense and durable stone is best for counters. Now imagine a piece of onyx-topped furniture or dining table, lit by the transparency of this semi-precious stone.
Doing business with experts gives you the unique opportunity to follow all steps in the co-creation of a work of art for your interior. You'll go from being stricken by the beauty of stone to creating, designing, choosing the cut, the finish, etc. Wood, stainless steel, wrought iron, glass, etc. all blend marvellously with stone. The possibilities are endless.
Thank you to Charles Parnazo of Marbretcetera in Montreal for sharing his passion and advice with us for this article. A passion he shares by phone, in store and on his blog.
For your information, in the 80s we did business with Italbec in Montreal, which still offers this service. Maintenance tips came from the Toutpratique site.