They are known as green terrariums, but their more elegant name is glass gardens. They are absolutely beautiful. Apart from being extremely decorative, they also permit you to admire the wonders of nature every day inside your very home.
The idea is to grow plants under a glass container from a substrate: soil, sand or gravel. The most ambitious people will choose a micro garden, a soothing landscape or even a real miniature forest.
While some floral creations are as modest as Japanese culture arrangements, like bonsai trees, others are more extravagant. They are full of shapes and colours.
Interior design and horticulture have always gone hand in hand. Glass gardens prove this very beautifully. They are refreshing and compelling. Plants have the ability to tone down and purify a room in such a remarkable way.
The decorative effect can be very subtle. Only a play of light accentuating the texture of certain leaves is enough to enchant the most contemplative minds. Admiring these glass gardens during difficult times is comforting somehow.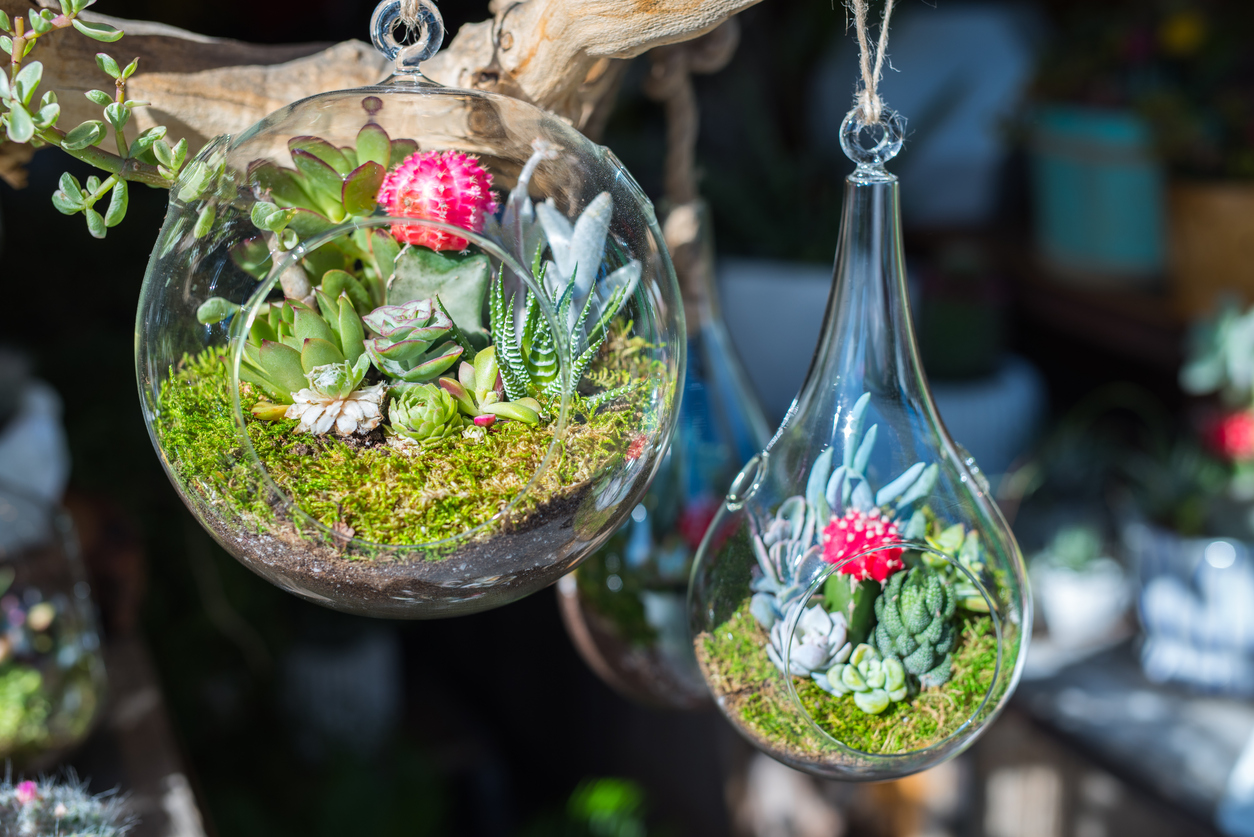 Caution! What gives the glass garden its decorative power is not limited to the plant itself. Otherwise, a simple stoneware pot would do. The glass container alone is beautiful on its own because of its artistic shape: round, bubble, globe, flowerpot, dome, pear or pyramid, and so on. Plus, the way the shimmering glass makes the whole piece sparkle is stunning. In short, the beauty of the glass blends well with that of the plants.
These terrariums are sometimes so large their base covers the seat of a stool. A leafy climber will, of course, scale the terrarium's sides. Initially, it is the plant that determines the size of the terrarium. In addition, plants do not have the same requirements in terms of ventilation, humidity, and sunlight.
Not all plant species can strive in a terrarium either. You will easily find a list of the ones that do on the internet, like ivy, moss, ferns, orchids, lichen, shamrocks and many others.
Now, choose the best place to showcase your glass garden. Take a moment to check all the possibilities. Keep in mind that glass distorts objects. This may create an interesting look.
The green terrarium is widely appreciated in an environment of natural materials, like jute, wood, stone, cork, etc. It fits very well with the ecological movement as well.
Plants still require care. The more complex ones require special attention. You can find tips everywhere on the internet.
That being said, plants that come from arid climates require little care. In addition, some terrariums are artificial. No maintenance is needed. Others are arranged by renowned landscapers. They are a work of art. In short, there's something for every taste.
Glass gardens are in a class of their own.
Photos: iStock.com