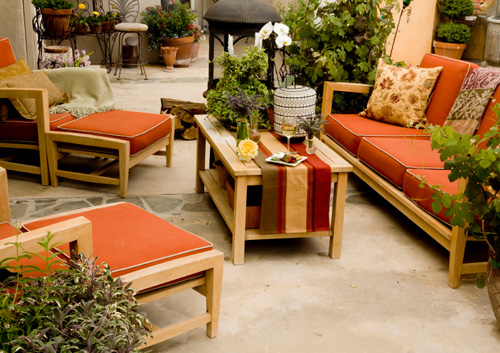 With the multitude of garden furniture and accessories available, setting up your deck has become an art like interior decorating. We would like to share a few traps you should avoid so that your investment doesn't make you grind your teeth.
The first too often neglected point: keep the barbecue away from the dining table and entrances to the house. It's become normal to see people smoke outside of houses to avoid the toxic effects of indoor smoke, so why be subject to barbecue smoke when you're outside? Suddenly your subtle sweet wine no longer tastes the same! And how can you pay attention to what your host is saying if you're stuck in a cloud of smoke?
Second: avoid smooth, pale fabrics as they tend to highlight stains. Even if they're nice or in fashion.
Third: give yourself room to move. You might think that's obvious, but many people have fallen in love with garden furniture that forms an "L" or "U", with a square pouf. But surprise: there's barely any room to move between the six comfortable, but imposing chairs, the table that's hard to move and the lovely couch.
And after a few glasses of wine, when things start to get a little fuzzy, there are the people who use the pouf as a stepping stone to their seat. It's quicker. They won't—or can't— bother their friends who are already sitting quite comfortably with their legs stretched out.
Fourth: avoid the parasol pole—open or closed–which hides you from the person sitting across the table. Better to invest in a square or rectangular gazebo type shelter. Natural or fake stone strengthen the poles and give your shelter a refined look.
Other option: a tree or climbing plant can protect you from the sun or unwelcome eyes. The air also circulates better than under a curtain, Plexiglas or tempered glass. However, vegetation doesn't protect you from mosquitoes.
Fifth: maximize space. The storage box for toys and/or cushions can also be used as a reading bench or table.
Sixth: avoid chairs close to the ground, unless it's part of your cultural habits. Otherwise, parents and grandparents will be able to sit down and stretch out their legs, but getting back up could be dangerous for surrounding objects.
Seventh: make sure you have a nice view. There's nothing worse than looking at a blank wall, a garbage can or an ugly fence while you're eating. Add pots with a tree, flowers, herbs, etc. Or add a decoration that makes you content or brings a smile to your face.
Remember, just like indoors, the colours of the various items will be more appealing if they are harmonious.