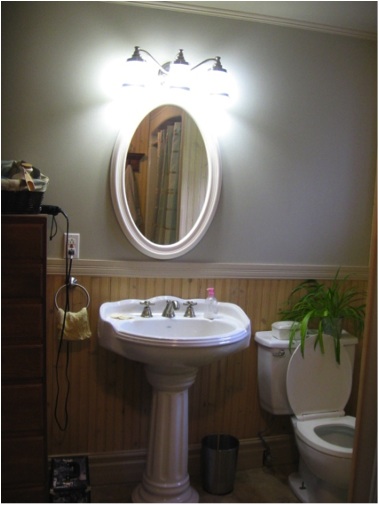 This is the story of a very small bathroom that you see below. There's not much room to move. When you're in front of the appliances, you can't access the vanity if the dryer door is open. You have to close it.
Above the appliances are the infamous and once popular white melamine cupboards, complete with plastic handles. No particular style. They're plain, straight and efficient. The layout is completed with a white melamine vanity with a mirrored medicine cabinet, very popular in the 80s.
So how do you renovate this small space to make more room and have it slightly bigger?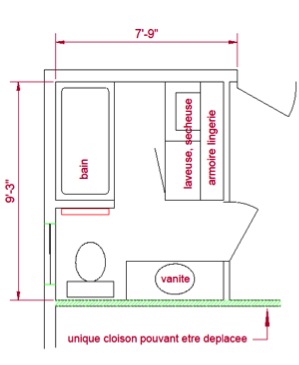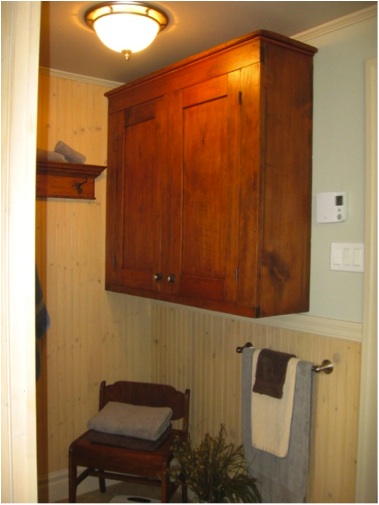 The option of moving a wall would be considered and quickly rejected due to the cost and limited space in the adjacent room. The alternative is to make the interior bigger.
The washer, dryer and vanity take up the most space. Desperate times call for desperate measures: the appliances and melamine cupboards will be relocated in order to free up floor space. The new space could be used for a linen closet.
– The washbasin and medicine cabinet will be replaced with a pedestal sink and a small narrow cabinet that automatically makes space to store everyday items. In a complete renovation, smaller washroom facilities and transparent curtain showers highlight the impression of size.
-Semi-gloss paint reflects the light, which is something that should not be neglected. It's also easier to maintain. Because light colours give the impression that there's more space, they should be used for the walls and accessories.
– Pay special attention to the lights, because a well-lit room always looks bigger.
Conclusion: in small spaces, it's important to juggle with the proportions, choose colours and materials intelligently and let the light in.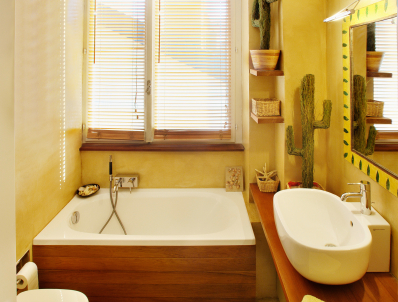 As the above photo shows, other layouts are possible.
Photos: Casarazzi and iStockphoto LP.