Why Celebrate Halloween?
It's almost Halloween and it's impossible not to celebrate this popular holiday, although this year it is especially important to be careful and restrict festivities. Halloween signifies the end of summer and the arrival of fall, hence the colors: orange, brown and black.
So, to properly celebrate this transition and create a festive atmosphere, use accessories, materials and fall hues in your home and garden. Here's something to inspire you!
It's Not a Party without a Pumpkin!
The pumpkin, being the classic symbol for Halloween, is the star of the show. You can carve it, sculpt it and preserve its flesh to make delicious recipes. Here are some ideas of things you can do once you've emptied it:
Put a nice pointed hat on its head,
Carve it and put one or more candles inside of it,
Sculpt the surface with the drawings of your choice,
Give it scary or funny eyes,
There are thousands of creative ways to give your pumpkin a makeover for it to be stylishly placed indoors or outdoors.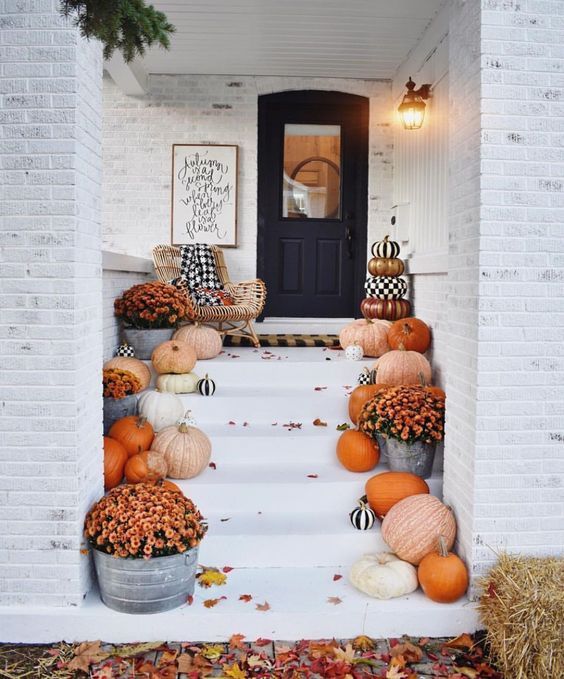 Decorate Your Home In Fall Decor!
To really get into the Halloween spirit, decorate your house in fall decor:
Place the pumpkin near the fireplace, or on the table,
Place candles or lanterns all over the house,
Dress windows with black, white or orange shades in the shape of bats, cats, trees…
Use plants: leaves, branches, fruits…
Set the table with trendy fall elements or creepy accessories,
It is not very complicated to create a frightening atmosphere.
Create a Chilling Visual Aesthetic to The Outside Of Your Home!
To create a Halloween-like aesthetic:
Place pumpkins, candles, witches, or any other accessory on the porch or in the garden.
Use fall colors: orange, yellow, brown…
Use natural elements such as flowers, leaves or straw,
Place certain animal or insect accessories: spiders, black cats or crows,
Hang ghosts on branches and cobwebs at the door,
Place tombs and skeletons on the ground,
The idea is to impress people passing by and scare your friends!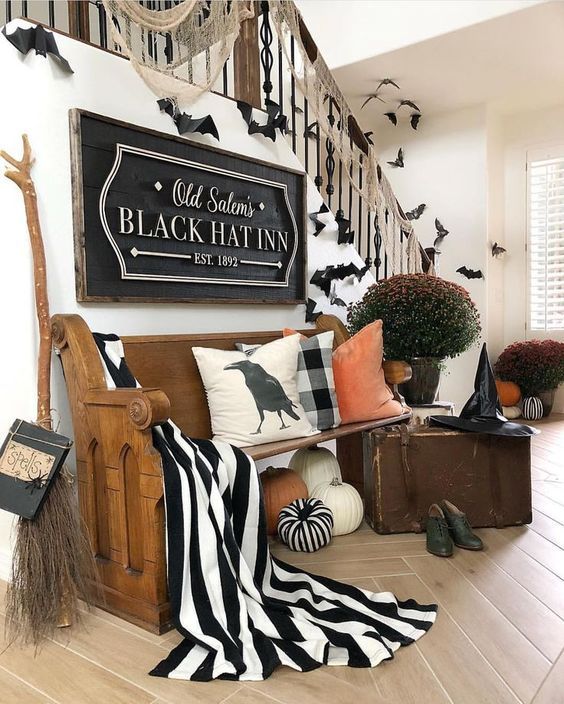 Get The Costumes Out Of The Closet!
Although this year's outings will be limited, Halloween costumes will still be in order. Call on the ghosts of Halloween past and make your own costume. Buy it or rent it, but don't miss out on the occasion! Specialty stores can be found everywhere. Use fun or scary makeup; Kids love it. If you're feeling uninspired, you can find plenty of ideas on the Internet.
Get Cooking!
Even in a small groups, it's always fun to prepare some delicious recipes to celebrate Halloween night. Here are some examples:
A scary-faced soup with odd shapes to warm you up,
Pumpkin-based cat or ghost cookies,
A few terrifying, evil-colored smoking cocktails,
Test the courage of your guests and create deliciously repulsive textures… these beverages will surely be a hit!
Decorate the inside and outside of your home for an evening worthy of a creepy Halloween movie!