At first glance, it looks like a futuristic boat. Then the entry door jumps out at you. Are we in front of a building? Wow, did you see that giant spider in the foreground? Where are we!
We are in Bilbao, Spain. And we're in front of a Guggenheim museum. Do we have to specify that it's dedicated to contemporary art? Like the four other Solomon Guggenheim foundation museums, with the most well-known being the one in New York.
Upon seeing the photo, the more conservative ones among you will say "It's just twisted metal." Those who swear by innovation will exclaim "Now that's true creation!" And they'll add "Because it's contemporary art, the average person turns their nose up at it."
Don't be fooled! A million tourists pass through the museum doors each year. The building itself attracts just as many tourists, if not more, than the works of are found inside. It's very popular. The Guggenheim Bilbao is one of the most admired contemporary buildings in the world, by architecture critics and the average person alike.
Inside is a vast atrium that lets you admire the splendours of the Basque Country. And you won't find classically shaped art galleries. It must be completely nuts inside! The biggest gallery measures 30 by 130 metres.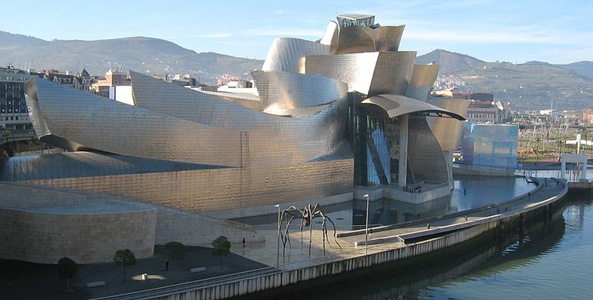 The museum's popular success has been good for the Basques. The nationalist government was desperately looking for a way to get the city of Bilbao out of the economic slump of the 90s. They wanted a shock treatment. They hit it dead on.
According to Wikipedia, the museum has had such a big impact on the city that researchers use the expression the "Guggenheim effect" to describe the positive effect that constructing the building had on the local economy.
Excessive use of curves obviously contributes to the museum's success. The materials used are titanium, glass, stone and water. We weren't far off when we alluded to a futuristic boat, since the building is located on the shore of a river.
The museum's designer, architect Frank Gehry, was one of the first to use computer-assisted designs. Without computers, the building as we see it today may have never seen the light of day.
(With the help of Wikipedia)