Everything is white. The ceilings, the walls, the floors, the furniture, the cupboards, even the decorative cushions on the sofa. Not a trace of colour anywhere. An infinite white, an omnipresent white, an organic white washed of its entire colour.
If the residence is big, you have the impression of setting foot in a snow cathedral. Just like those winter forest scenes where the trees are bending under the snow. Everything is pure, serene, and peaceful. A long, never-ending silence.
Devotees of colour will say that it doesn't make sense; you don't have a completely white interior. It shows a lack of imagination and a total lack of taste. Laziness even. Living in it would be unthinkable. Colour is life. To kill the colour is to kill life.
Yet some people dare to do it. If you've ever visited properties along the American coasts, you may have noticed that the interior of houses along the edge of the ocean are totally white.
Are you tempted?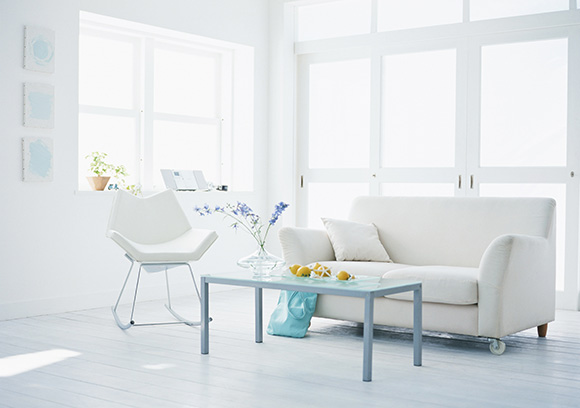 If you want the purest white there is, it's best to choose a white inclining into blue. If not, white inclining into yellow offers solar clarity, while white inclining into grey will darken the atmosphere a bit. Cream white will add a chic appeal and opens the door to a 50s air and setting.
Choosing a glossy white will add more brightness. If not, use semi-gloss or flat. Keep in mind that lighting increases or decreases the white's brilliance. Choose the intensity according to your needs.
For a child's room, you're best to use a washable paint, because if the slightest stain gives you a headache, you may find day-to-day living painful.
It's said that colours stimulate a child's imagination. However, could it be possible that white further develops the imagination by allowing the child to create his own images and sensations? Just like a book that obligates the reader to come up with their own images, something which movies don't do.
The floor is a problem. A white floor is not easy. Painted wood? Linoleum? Ceramic? A white carpet? This is where you might have to make the first compromise. A natural-look wood floor blends well with a domination of white. One thing is certain: avoid carpets that are too dark, or they will reduce the brilliance of your white. A dark grey will be projected onto the walls.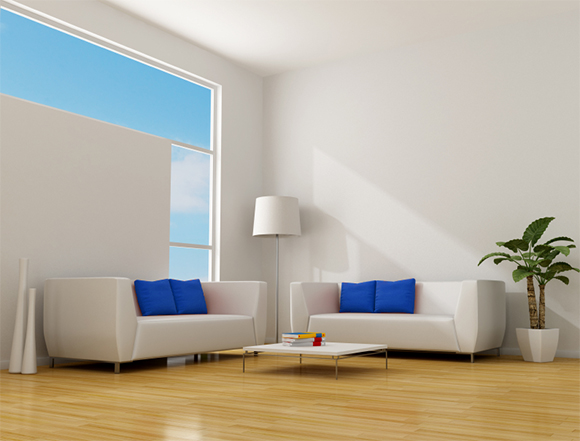 Be careful of your choice of materials if you want to keep the sumptuous aspect of white. For example: white melamine cupboards tend to yellow over time.
There's no convincing you. You cannot get your head around the idea of a completely white interior. You need some colour. Use it as an opportunity to highlight furniture or decorative accessories that you feel strongly about. A touch of brown, a touch of red, a touch of yellow.
You can also try other things: little dashes of rainbow here and there, some green plants or a second colour that attempts to assert itself behind the white, such as blue.
You're the boss. You decide.
Photos: iStockphoto LP