Wood or Composite Deck? Take Your Pick!
The coming summer can lead many homeowners to contemplate building a deck to enjoy the sunny days ahead.
But what type of material should you choose to benefit from it to the fullest? The final decision will be driven by your tastes and your wallet. Read on for our tips to help you make an informed decision!
The Characteristics of Composite
Over the past five years, composite wood decks have experienced phenomenal growth.
It's easy to see why, since this type of material has many advantages:
Made from environmentally friendly, non-toxic, recycled materials, composite helps reduce deforestation.
At a glance, it is similar to natural wood, but it is actually easier to maintain. In general, only two to four hours per summer are required for cleaning and maintenance.
Composite is safe for pets and for human feet, since it does not cause splinters due to cracks, crumbling slats or rot holes.
Lastly, composite decks have a longer lifespan than their natural counterpart, making them a less expensive choice in the long run.
However, it has a few drawbacks:
This material is more expensive to purchase and install.
It does not allow for flexibility if you change your mind about the color.
Even if the product has been greatly improved over the years, it is still noticeably a wood imitation, especially to the touch of bare feet!
It is often more difficult to install.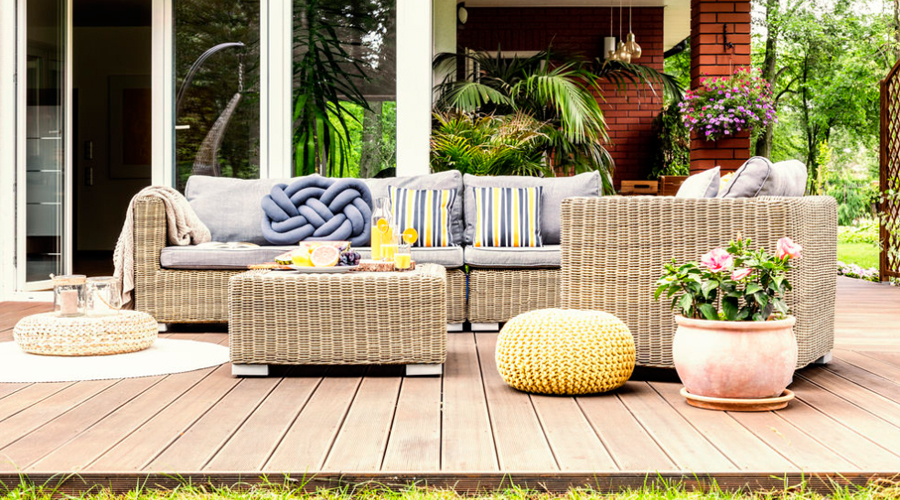 The Characteristics of Natural Wood
Although composite wood is popular, wooden decks in Quebec are mostly made of natural wood.
This type of material also has several advantages:
For now, nothing can really compete with the warmth of wood. Its authenticity, raw appearance and rustic side appeal to most people.
In addition, it is quite easy to change its appearance with different colored paints. You can, therefore, modify your outdoor layout without having to change your entire deck.
One of the reasons most people turn to wood is its price. Wood slats are less expensive to purchase and install.
However, it has a few disadvantages:
Wooden decks generally require four times more maintenance than composite decks: sandblasting, staining, painting and cleaning take several hours each summer or after a few years.
Despite this prolonged maintenance, wood has a shorter lifespan.
This material is also at the mercy of bad weather, some insects and mold.
In addition, wood is more expensive in the long run, due to frequent maintenance and its shorter longevity.
Hopefully, these pros and cons of natural wood and composite wood have helped you make a choice for your future deck!