Why Move to the Côte-Nord Region?
Do you dream of moving to an area where simplicity rhymes with nature? If so, the Côte-Nord region is the place for you! This vast territory offers more than 1,300 km of coastline with extraordinary natural landscapes and holds one of the largest biosphere reserves in the world. The region is sparsely populated, with just over 93,900 inhabitants and an area of 236,502 km, a density of 0.4 hab/km2. The Côte-Nord region is comprised of 52 municipalities whose main cities are: Port Cartier, Sept-Isles and Baie-Comeau. The last two greatly benefit from economic and touristic developments. The population is predominantly French-speaking and Indigenous.
The Côte-Nord Region and Its Economy Rich in Resources
The Côte-Nord region occupies almost a quarter of Quebec's surface area. Thanks to its mineral, forestry and hydroelectric resources, the region has a prosperous economy. It transforms aluminum, and explores and develops sectors such as marine science and technology. The Côte-Nord region currently exports nearly 78% of its production outside Quebec. The main reasons for this are the rise in tourism and the abundance of flora and fauna. For this reason, Côte-Nord region deems it crucial to respect and protect its environment.
Côte-Nord, Living in Nature
The omnipresence of nature makes this region a safe haven and humbles whoever sets foot there with its vast landscapes and the diversity of its fauna. However, there are urban areas that provide many different services: schools, Université du Québec à Chicoutimi, social centers, health centers, but also cultural centers such as museums, libraries and festivals that are organized year round. The region also continues to build and redevelop new projects that are continuously worked on.
The Côte-Nord Region and its Staple Activities
Nature in this region offers the opportunity for year round outdoor activities. Snowy slopes for skiing, snowshoeing, snowmobiling or dog sledding; the white roads allow young and old to keep busy during the winter. When summer arrives, it's time to take walks in the forest, kayak on lakes, ride bikes on bike paths or ride horses. During every season you can hunt and fish with respect for nature, or you can visit ornithological sites. But there are more than sporting activities available. You can also visit industrial sites that have participated in the development of the region such as ArcelorMittal, mines or the Daniel-Johnson Dam, which are all great ways to better understand the territory in which you are settling.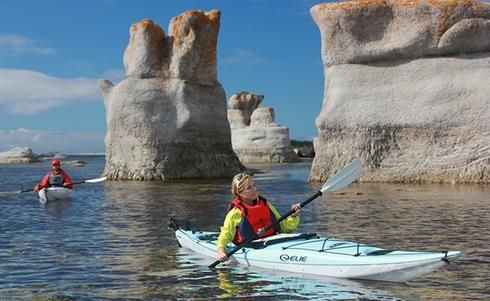 The Côte-Nord, a Healthy and Gourmet Region
Discovering the products of the Côte-Nord region means tasting the flavors of the land, the woods and the sea. It also involves enjoying a cooler climate that is perfect for haskap berries, which are small fruits that have a sweet and tangy taste… Everywhere, artisans and merchants offer their tasty, gourmet, artisanal recipes made with fish, wild meats, crustaceans, fruits and vegetables from the region. It also holds many distilleries such as the Vent du Nord distillery in Baie-Cormeau, along with regional farms, such as Manicouagan de Pointe-Lebel. Lastly, the Côte-Nord region can also allow you to discover different organic food markets.
You will surely fall in love with this this beautiful and welcoming region that offers a pleasant life in a natural territory.