We often hear that you have to enjoy the moment. But given the ice-cold winter that has lasted since December—until February 13 at least—it's really tempting just to close your eyes and imagine the soft spring sun shining down. Especially if you're feeling down.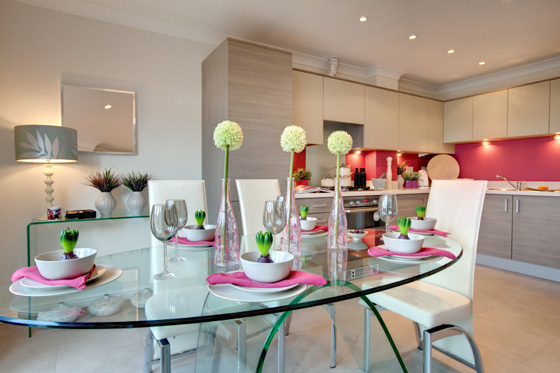 The best remedy according to many health experts: action! We start looking for something to brighten up our day. In our houses, we change the décor to give it a spring air.
Spring evokes many images and comforts: snowdrop, daffodil, tender green shoots, buds, soft heat, and murmur of melting snow brooks. In his poem Spring Victor Hugo said: "It seems like everything is laughing, and that the green trees are happy to be together and recite verses…"
To deal with this endless winter, find out what brings a smile to your face and makes you and your loved ones happy.
Here are few ideas:
Wall stickers. Let your self be inspired, whether it is verses by Victor Hugo, thoughts by philosophers, poets or even your own. With the magic of wall stickers, you can create new ones for each season. The best places to place them: the entrance, kitchen or bathroom.
A portrait. You can opt for an abstract style with rainbow colours, such as Hassane Amroui's Spring Storm. Or a zen style with a tiny tree with young green shoots and a couple or a sage nearby. Renaissance lovers will have a weakness for Spring by Sandro Botticelli with the infamous cupid ready to shoot his arrow at one of the young women with the transparent veils. A portrait with immense flowers in a variety of colours will have the same vitalizing effect. Naturally these portraits are reproductions.
An accessory. Silk or synthetic flowers are much more realistic than the ones your aunt had. Many florists know how to add a touch of modernity by carefully selecting a good balance between the elements: water, earth (stone), wood, air. For example, young shoots of succulents surrounded by polished stones resting on a ceramic boat shaped vase. The vase can be white, yellow, green, red, blue.
If you're still a child at heart, a funny character could lead your boat. Or you could place it on the corner of a table. Maybe you prefer a clown or a pirate or even a comic strip character. For the tender-hearted: an object made by a child.
Fabrics. A cushion, a throw, a tablecloth, place mats, a clear blue curtain carries us to the ocean or beautiful, sunny days. Wasabi green adds some spice and freshness. Yellow lights things up. Pink soothes and relaxes.
Paint. A simple touch of colour that blends with the accessory or fabric can change everything.
Lighting. The intensity of the light also affects our mood. Think light therapy. Look at each room in your home. Experts recommend at least five sources of light per room. Do you have a dimmer for each light source? Does a ray of light add value to the accessory or portrait that is brightening up your house?
After that, you'll never feel cold in the winter again. Promise.
References:
2013-2014 winter weather: Météomédia
Spring Storm by Hassane Amroui.
Spring by Botticelli on French Wikipedia
Spring poem Victor Hugo on Poetica.fr