Porcelain has been used as table art for a long time. Major European manufacturers are internationally renowned for the incomparable quality of their dishes. Take Limoges or Sèvres porcelain for example.
Porcelain's charm is explained by its finesse and translucency, properties that are also found in other pieces used for decorative purposes, such as figurines, ornaments, clocks, lamps.
In another vein, would you be tempted by a porcelain floor? At first glance you might doubt its strength. But wait!
We learned from Joyce Barakett, of Couvre-planchers Magnan in Trois-Rivières, that most porcelain tiles used as floor covering are stronger than ceramic. Most varieties of ceramic tiles are fired once whereas porcelain can be fired several times, making it stronger.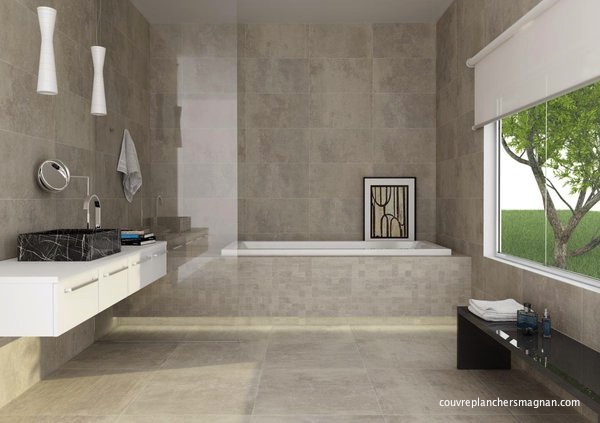 Several minerals, including quartz, form an integral part of porcelain, improving its resistance. If a dish or cooking utensil falls on the kitchen floor, it's not the porcelain floor that will break, assures Ms. Barakett.
It's hard to differentiate between ceramic and porcelain by looking at them. Porcelain tiles also have different finishes: glossy, flat and lapato. The lapato finish is between glossy and flat and has a hammered appearance. This finish tends to hide small amounts of dirt on the floor, making it easy to maintain.
Porcelain is guaranteed for life. Since it's harder to install than ceramic, you should call on a qualified professional. However, if you ever decide to try it yourself, make sure you use a wet saw to avoid chipping.
You can also use frost-proof porcelain tiles outside, on a patio or balcony for example. Make sure to choose a rough finish to avoid a skating rink effect on the surface.
In terms of floor covering, porcelain is not more expensive than ceramic. It's a material that's worth learning more about.
Thanks to Couvre-planchers Magnan for the photo!
Sources:
www.couvreplanchersmagnan.com/