With the arrival of fall, many of us want to put the house in order and get organized. The kitchen is the best place to start.
Our kitchens can quickly become cluttered because of everything that we store in them, from kitchen utensils, to food, to household items. Here are some clever ideas for a tidy and functional kitchen.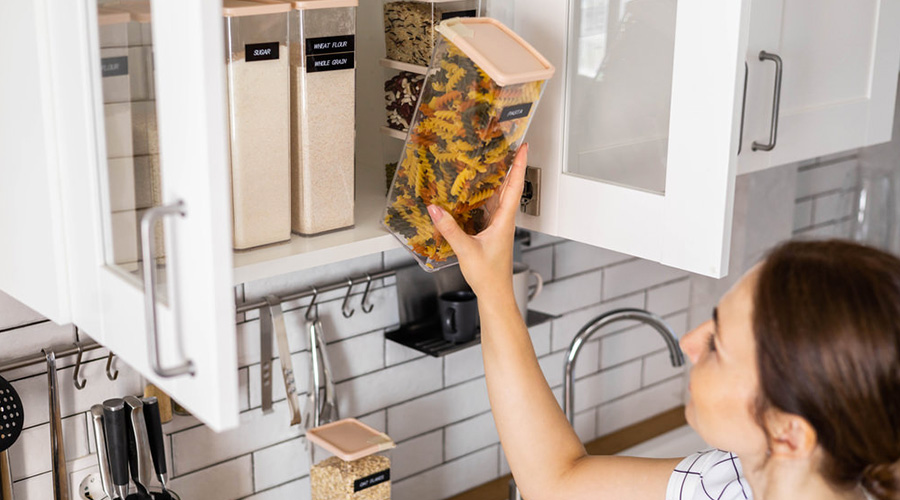 Everything in Matching Jars
Buy large quantities of different sized matching jars. This will be your starting point to better organize the pantry. You can put everything in these identified jars: flour, raisins, oatmeal, chia seeds, different snacks, etc.
Why do this when these ingredients already have their own packaging? To create a consistent and aesthetically pleasing effect. It will also be easier to put away the containers without spilling any of the contents into the cabinets.
Removable Drawer Separators
Let's face it, kitchen drawers can quickly become messy. Plastic organizers can come to the rescue!
Thanks to their versatility, they make it possible to create different compartments – of various sizes – in kitchen drawers. This makes it easier to store similar items together.
Storage for Pan Lids
The pan storage area can easily become cluttered and disorganized. The reason behind this chaos? Lids are difficult to store and take up lots of space.
One trick is to get adhesive plastic hooks. Glue three of them to an inner wall so as to form a circle to store a lid. Do the same for all lids by adjusting the dimensions of the circle.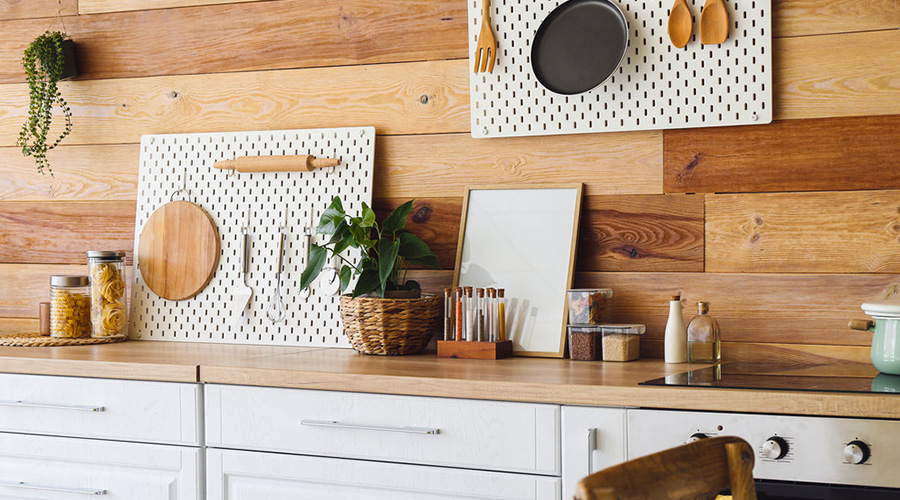 Perforated Panels
Perforated panels are often used in the garage. Adding hooks and shelves to them makes it easy to organize tools.
Why not use them in the house as well? In the kitchen, you can use them to hang cups, pans and utensils. For a more pleasing effect, paint them in black.
Trash Bag Dispenser
Essential to the kitchen, trash bags, large and small, are often stored under the sink and take up lots of space!
To solve this problem, install a toilet paper holder on the inner wall of the cabinet: all you need to do then is insert the roll of bags. The idea sounds far-fetched, but it is very convenient!
Utensil Holder
Wooden spoons, spatulas, and other handheld tools can get stuck in the drawer. In addition, they often create visual chaos. Take them out and place them in a nice utensil holder that can be kept on the counter.
Vertical Plate Holder
Gone are the days when we stacked plates on top of each other! To free up space, use an elegant and trendy vertical plate holder. If your plates are all the same, it can even be placed on the island or counter.
You have to admit that these ideas make you want to rethink your kitchen!