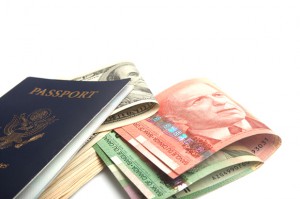 Starting a new in a new country bears its share of challenges… thinking about education matters, finding a place to live and work, and understanding the intricacies of the local customs and language. Between settling in, managing finances and getting to know your new country, it is crucial to make sure that you obtain the right advice for your particular situation so that you can have the chance to accomplish every one of your projects in Canada.
On the financial front, you must also familiarize yourself with the Canadian banking system, such as your credit file, bank accounts, savings plans, taxes and currency. It's with that perspective in mind that National Bank now offers banking solutions designed especially for newcomers to Canada.
A welcoming offer
In addition to standard services, which include online bank statements and access to our High Interest Savings Account, our newcomers offer affords you an array of benefits to help you transition into your new life with peace of mind, namely thanks to:
One of the following National Bank credit cards: Edition card with cashback rewards1, Edition card with À la carte Rewards Plan1 or the MasterCard®,1Platinum credit card(All these cards may be granted without a security deposit, subject to credit approval by National Bank)
A Chequing account with no monthly service charges for 12 months2 on the following transactions:

Client Card purchases in the Interac®1, NYCE®2 and Maestro®3 networks
Cheques and preauthorized debits
Transactions at National Bank branch counters and banking marchines3: withdrawals, transfers and withdrawals for bill payments
Internet Banking Solutions, mobile4 and TelNat telephone transactions : transfers between transactional accounts held by the same person and bill payments

A 50% discount on an annual safety deposit box rental5 for the first year
Only newcomers to Canada with permanent resident status are eligible for this offer for the first 24 months after their arrival in the country. This offer is an advantage given to Primary Cardholders of one of the MasterCard credit cards associated with this offer who have opened a National Bank Chequing account. One year after opening your Chequing account, regular fees will apply.
A simple process to facilitate your transition
Buying a home in a foreign country requires a hefty investment that entails thoughtful planning. It is therefore crucial to obtain the right advice at every step of the process, from the assessment of your borrowing capacity to the walk across the threshold!
By taking advantage of this offer, you will benefit from the support of a multidisciplinary team of experts to help you transfer funds6 from your foreign bank account to your National Bank account so that you may close on the purchase of your first home in Canada.
There's never been an easier way to come home.
For more information…
You can obtain more information about this offer by visiting nbc.ca/newcomers. On that website, you will also find a ton of useful articles on important topics, such as working or studying in Canada, starting a company, saving and investing, etc.
Of course, we also invite you to contact a Mortgage Development Manager to discuss your particular situation or make an appointment.
___________________

1 Subject to credit approval by National Bank. Certain conditions apply.      
 2 The no-fee period applies starting from the opening of the Chequing account. Twelve months after the opening of the account, fees in effect for each transaction will automatically be charged and appear on your bank statement.
 3 User fees for the Interac®1 banking machine and point-of-sale network and the Cirrus®4 banking machine network are also payable. No additional fees apply for the use of THE EXCHANGE®5 banking machine network.
 4 Certain versions of browsers are required to access National Bank Internet Banking Solutions and Mobile Banking Solutions. Please visit nbc.ca/browsers.
 5 Minimum rental period of 12 months in Canada. After the 12 months, fees in effect will apply. Some conditions apply, particularly concerning eligibility for safety deposit box rental. Subject to availability. Details available in branches. Fees for the use of a safety deposit box are outlined in the Guide to Personal Banking Solutions, available in branches.
 6 Service charges will be debited to the new account for all wire transfers. Please read the Fees, General Information and Agreement guide, available in branches. In addition, certain local bank correspondents may charge additional fees.
®       MasterCard is a registered trademark of MasterCard International Inc. Authorized user: National Bank of Canada.

®1      Registered trademark of Interac inc.

®2      Registered trademark of NYCE Corporation.

®3      Maestro is a registered trademark of MasterCard International Inc. Currency conversion fees apply. For details concerning transactions carried out in foreign currencies, refer to the Agreement Governing the Use of Automated and Electronic Banking Solutions, available in branches and at nbc.ca. Transactions carried out in a foreign currency other than the U.S. dollar will first be converted into U.S. dollars and then into Canadian dollars.
®4    Registered trademark of MasterCard International Inc.
®5    Registered trademark of Fiserv Inc.