With Promutuel Insurance
Thinking of buying a property with a separate suite or living area where a member or members of your family can live and still have a little privacy? Or perhaps you're renovating your current home so your parents can move in? There's undoubtedly a lot to be said for that kind of lifestyle. But do you understand all the implications?
The ABCs of multigenerational homes
Whether you call them multigenerational, bigenerational, or intergenerational, they're generally single-family homes with a (usually smaller) independent space or apartment addition for another generation to live in.
The definition of a multigenerational home varies from one city or town to the next. Some may have a door between the two sections, while others may share a whole room, such as a laundry room. Check with your municipality to see if your home qualifies as multigenerational. Municipalities may base their rules on size, location, address management, heating system, and so forth.
According to the Quebec Professional Association of Real Estate Brokers, the average price of a multigenerational home was $422,817 in 2020, vs. $400,076 for a single-family home. Governments also offer some advantages, such as tax credits and rebates, which may apply in certain cases. Ask a professional!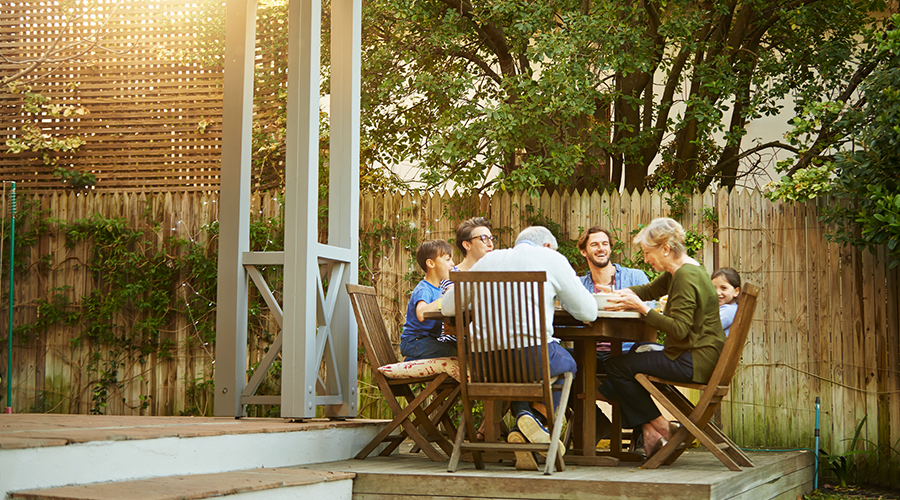 Upsides on a human scale
Intergenerational homes are comforting and safe for aging relatives. They're homier than seniors' homes and encourages members of the family to do things for each other. Perhaps Grandpa might babysit the youngest, while your firstborn might help Grandma carry heavy boxes. Mom and Dad might really appreciate help from their parents with mealtimes, homework, or at bedtime.
It's also an option for grown children at university who want more independence but don't have the money to pay for an apartment. With a fully equipped place to live and parents close by, they're all set. And the parents can rest easy.
Your mutual support of course has to be rooted in good faith and respect for each other's lives and privacy, or it won't work. It takes a stiff dose of live-and-let-live to, er, let each other live their own lives. But the positive psychological effects on grandparents, parents, and children are well documented. And reducing everyone's cost of living by sharing some expenses—it's pure gravy!
The downsides
The main drawback to multigenerational housing is a loss of privacy. Don't forget you're always going to have Mom and Dad right there on the other side of the wall, floor, or ceiling. There are everyday noises, and who wants and audience when you raise your voice?
Shared areas, particularly outdoors—like a balcony or yard—can also spoil the family feeling. Suppose Grandma wants to read under the maple tree just when the kids bring their friends over for a treasure hunt in the backyard? All the pieces are in place for a clash of civilizations.
Everyone has their own limits and ways of looking at things. A frank discussion is essential before you commit to intergenerational living. Head off problems in advance by finding out exactly what everyone needs and expects, how much they need and expect, and making sure everyone understand the differences in pace of life.
Tensions can also develop around money: intergenerational living is based on cost sharing and a landlord–tenant relationship, though the parties never cease to be parents and their offspring. Money is always a potential source of friction. Ideally, you'll have a written agreement to lay down the rules, something like a lease.
Multigenerational home insurance
Multigenerational homes have distinct features that are reflected in the insurance policies that cover them. In some cases the occupants of the suite will need their own insurance to cover their possessions and liability, just like tenants in an apartment building. However, depending on the building, the insurer might also offer coverage for the building and all the property of all the occupants.
If you want to buy a multigenerational home, get in touch with a damage insurance representative, who'll explain what you need to know before buying a multigenerational home. For a human touch and coverage designed for the world you live in, trust Promutuel Insurance.
Life with the whole family can be so much richer—why go it alone?