Sylvie enjoyed the lounge style. She wore coloured clothing that reflected the ambient light. It was like a thousand lights reflecting off a plastic surface. She also had a weakness for vinyl handbags. They also reflected a thousand shimmering lights.
Sylvie liked lounges. Not just for the decor, but also for the ambience and the easy listening music. A renter, given her age, Sylvie promised herself that she would have a lounge in her first house. The living room, the bedroom, the kitchen, the bathroom—it didn't matter which one.
To create a lounge atmosphere worthy of a bar, it has to be soft, cool, relaxed. It has to make you feel like sitting back, relaxing and talking.
There is lounge glamour, highlighted by classic elegance, as seen in movies of the 40s and 50s with Humphrey Bogart and Ava Gardner. Piano bar, dark colours, deluxe decor.
The ludic lounge appeared in the 60s. It's almost science fiction decor. Bright colours, odd shapes, omnipresent light. Everything is flashy and chic.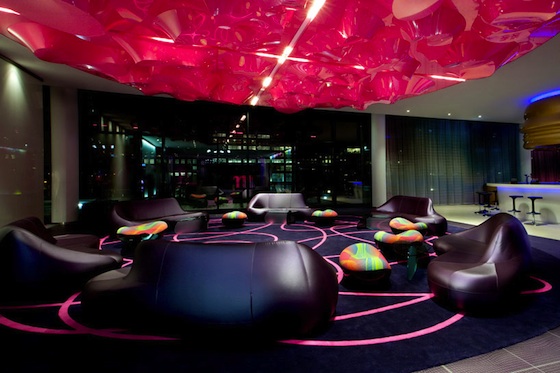 Entering a ludic lounge is like going into a deluxe dairy bar used by the rich and famous. You feel refreshed from head to toe. And you are astonished by everything in the room.
First surprise: the light. It circulates freely. Projectors under a false ceiling, lights under the floor, neon signs, candles and other light sources create light shows that make the ambience. Careful, the light doesn't dazzle! The lighting is rather subtle and refined. Its purpose is to highlight the deco.
Second surprise: transparent materials and the omnipresence of vinyl and other retro plastics. Lacquer as well. Basically, anything that reflects light is welcome. The reflections palpitate everywhere. Everything reflects. Everything shines.
Third surprise: the glass. A ludic lounge is filled with mirrors, glass tables and walls, and transparent screens and chairs.
Fourth surprise: the curves. The contour of a door, the opening in a wall, the table, the counter, the sofa, the chairs, the booths, everything is curved. The geometry is completely crazy. The cylindrical is combined with elliptical. Everything is mixed together, is deformed and stretches out, without a hint of anarchy.
The designer furniture, from the stool to the lamp, has a scary minimalism about it. The shape of the most imposing furniture evokes an ice flow, a submarine, an iceberg, a wave.
The irregular shapes of the furniture are often combined with the psychedelic patterns of the bedcover, cushions or small mats. This is a futuristic and surrealistic atmosphere.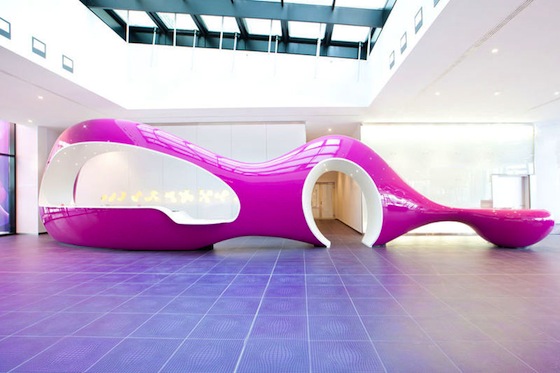 Fifth surprise: the colours. They are bright for the most part, with the occasional copper and silver metal. Black and white tiles are frequent. A monochrome floor highlights the furniture, while a monochrome decor, preferably white, highlights the beauty of a multi-coloured floor.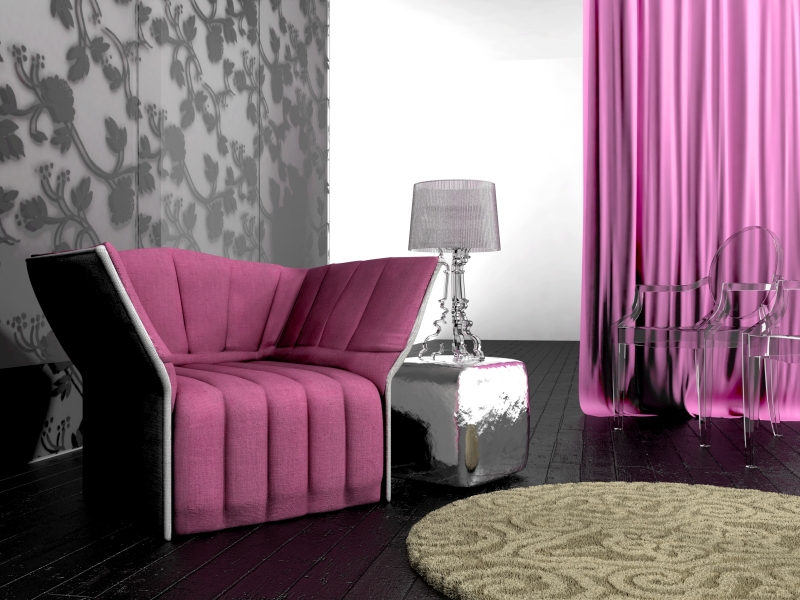 If you want a pure lounge, you have to buy at least one designer object or piece of furniture. Little in the way of fabrics, woodwork and organic materials, but nothing prevents you from being innovative.
Photos:
1-Reception desk at nhow Hotel Berlin by Forster82 on Wikipedia cco
2- Lobby and lounge at the nhow Hotel Berlin by Forster82 on Wikipedia cco
3- iStockphoto