How would you like to have your home illuminated by the rays of the full moon, with a hint of the fantastic, all summer long? The light wouldn't come from the moon or lamps, but from furniture that emits its own light.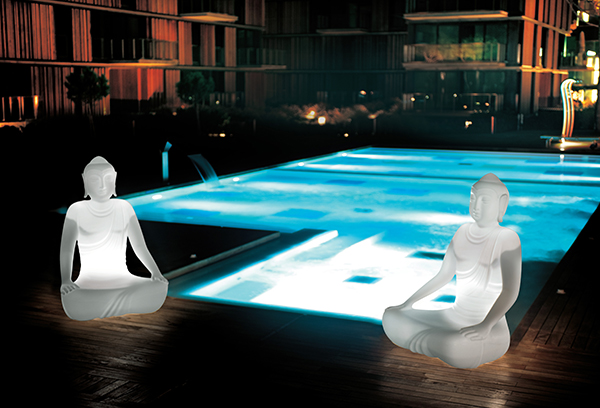 The variety of models designed with avant-garde materials will take you on a journey around the world. These two luminous statues in the lotus position are actual chairs that open the arms of serenity to you. Known as Sereno chairs, they are part of a collection of outdoor furniture designed by Moderndesign at Twentyfirst.
Perhaps you prefer a more classical sofa, along with its companion, the armchair? Serralunga's Sirchester sofas and armchairs resemble the furniture in a dollhouse. The rounded arms and simple lines are propitious for the sharing of secrets and tender words. Unless you prefer to stand. In that case, your discussions will take place around a whitish bar.
Vondom invites you to be carried away by the waves on its luminous surf deck chair. It's the ideal position to dream.
In terms of non-luminous futuristic furniture, last spring, Twentyfirst's Moderndesign team presented its Groove set, with soft, pure lines, at the Milan furniture show. An ergonomic chair, sofa and table with a resolutely modern minimalist design. The parallel lines of the all-white furniture promise you relaxing moments.
According to the JardinChic site, the quality of the furniture comes from a semi-handcrafted manufacturing process that uses the roto-molding technique. The furniture is made of recyclable polyethylene. The furniture is weather and UV resistant and easy to maintain. Simply wipe it with a dry cloth. Wash the surface with hot water and a neutral detergent-free cleaner.
We first found this luminous furniture on the JardinChic.com site, which authorized us to use the photo and information. We also received authorization from Twentyfirst, which took the time to specify that, following a complaint, the Sereno chairs could not use the name of Buddha. We thank them for their cooperation.
Photo: JardinChic.com