Who has never seen a wall covered in family photos from grandparents to grandchildren? With new technologies, family trees are getting a makeover.
To add to or replace the faces of your family members, you can now display more and more original photos: your DNA and fingerprints.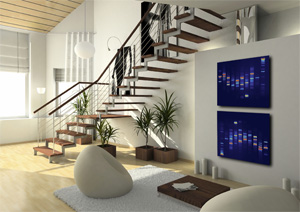 Reproducing DNA and fingerprints is a very modern design that adds a special touch to your decor. Each set of colours is unique. You can even juxtapose the portrait of your DNA with the DNA of your sweetheart or child. You can choose from a wide array of colours, supports and formats.
For example, HELYS.fr offers a selection of over 35 colours. Lighting and the desired effect will influence your choice between a canvas, an aluminum plaque or a Plexiglas plaque.
If you're not sure or if you plan to move, canvas more easily adapts to different environments and lighting conditions. For vivid colours, brightness has a more pronounced visual impact, which makes the aluminum plaque the ideal choice for a support. If you're looking for a depth effect in a more contemporary décor, a Plexiglas plaque may be more suited to your creativity.
The printing process consists of spraying more than four million droplets per second on the selected support. A UV varnish gives canvases more luminosity while protecting them from ultraviolet rays, stains, scratches and water.
If you want to let your creativity run wild, you can also obtain non-standard formats by contacting HELYS.fr.
Your "tracks" can be reproduced on other supports. How about a 29 x 23 cm to 95 x 70 cm electric luminous frame to put on your desk or hang on a wall. An iPhone application will create a portable DNA portrait!
Since DNA is in every cell of our body, it takes an infinitely small amount from your mouth to create a frame!
For your fingerprints, you choose one from the ones you put on the sheet provided.
The sampling kit includes either a package for DNA sampling or a package to take fingerprints, a form, the procedure, etc.
Helys.fr provides a numbered authenticity certificate signed by two molecular biology doctors who founded HELYS.
This desire for DNA is just starting. We learned at the beginning of the year on the Radio-Canada.ca site that a biotechnology company was offering to rapidly decode DNA for $1000! DNA11, an international company, has a point of sale in Ontario and offers essentially the same products as Helys.
Sources: Helys.fr, Radio-Canada et DNA11