Have you ever thought about it or are you like most people and you automatically install doors everywhere? There are several advantages to putting up curtains rather than doors.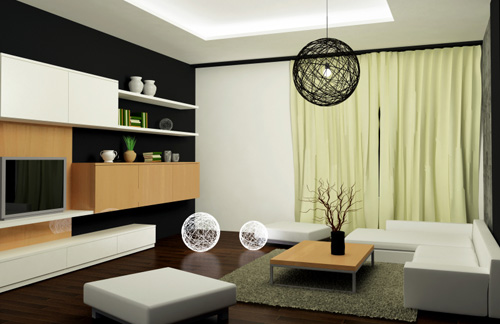 Look at this photo showing a wall of French folds curtains. Is it a window, a door or a storage space? Maybe, like Alice in Wonderland, asking what's behind the curtain adds a touch of intrigue to the decor.
Obviously you just don't remove any door and replace it with a curtain! Closet doors are perfect. Folding closet doors limit access to the storage space. Sometimes you have to contort yourself into weird positions to get to something at the back of your closet. Folding doors also eat up the available space in your room. It's worse with full-sized doors.
Do you think sliding doors are more efficient? With sliding doors, especially narrow ones, you get the impression that you have to squeeze your elbows and hold your breath to reach what you want. Or you have to "change sides because you made a mistake[1]!"
You have to be careful when moving sliding doors, otherwise one of them could slide off the rail. That happened to me with an eight-foot high door!
Sliding doors are often covered with a mirror, making them useful to check your clothes. But not everyone likes to see themselves reflected in a mirror at certain times of the morning. And what about their cleaning! Also, mirrors reverberate sound, while cloth absorbs it.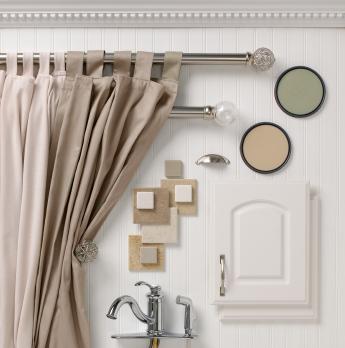 Look at your doors. How much space would you gain if you removed them? Wouldn't your decor be warmer, more "mysterious" with curtains?
You could have fun drawing a decorative trim on your closet, just like in the theatre. Or go more sparingly with a casing covered in fabric. It will do a great job of covering the rod. Or install a shelf above the wood supports that you have previously perforated. All you have to do is side the rod through it.
Be careful about the choice of fabric. It has to resist sometimes impatient or dirty hands.
A certain degree of transparency provides better harmonization with your decor. It will hide the rainbow of colours in your clothes and accessories hidden behind the curtains.
Other storage spaces, like under the bathroom sink and the pantry door are also well-suited to curtains.
Depending on available space, the curtain could be installed inside or outside the arch or frame. Important: curtains must open quickly and give easy access to the entire opening of the closet.
Curtains with rings on a rod are a good, economical choice. French folds curtains also open quite easily, but they cost more.
After cursing against the doors of his closet for four years, a friend finally replaced them with two panels of suede-like curtains whose rings slide on a decorative rod. He wonders why he didn't do it sooner. What do you think?
Photo source: iStockphoto LP
---
[1]
Like in a rigadoon (traditional French or Quebecois song and dance)