You need three trump cards to win this game: the audacity card, the imagination card and the budget card. If you have all three, why not lay your cards down on the table right now?
You don't have the budget? Limit yourself to one room. Maybe two. The pleasure will be just as great.
Americans love to play this decorative game. Graceland, Elvis's home in Memphis, is the most popular example, despite the kitsch.
The Jungle Room, with its safari atmosphere, with reddish-brown as the dominant colour and the skin of feline on the floor has made the rounds in all the magazines. The same applies to the billiard room, where the sofa, walls and ceiling share the same motif, which gives it a bland, monochrome look.
In Brussels, go to the Cook and Book restaurant with an open mind. It's divided into nine bookstores with a decorative them specific to each one. It's a sign that ideas abound.
Still in Brussels, the Smoods bar, located in the hôtel du Bloom, has played its trump cards quite admirably. Customers go through seven different ambiances in the entire place: passion, safari, bling bling, library, bazar, spring and Flower Power.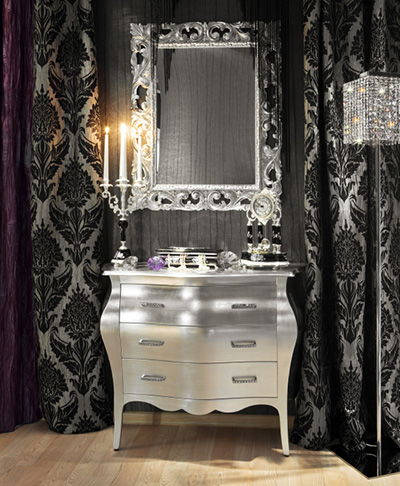 Let's digress for a moment. Bling bling is a European concept that is making a strong return. The goal is to be eye-catching at any price. For example: a curtain of false diamonds, an assortment of different colours. It's flashy with a good dose of humour.
Do you have a slim chance of going to Brussels ? Nothing prevents you from being inspired by one of these themes to take action, either by doing it yourself or by inviting friends and family to ask them how they see the room according to the chosen theme. You could also call an interior decorator.
What would you do to make springtime blossom on your walls all year long? To evoke the Flower Power of the 60s? To recreate the spirit of a Middle Eastern bazaar? To illustrate passion?
Here are a few other ideas. It's up to you to add some creative momentum.
Why not invite friends and family for tea in a Victorian style room? Imitate the British! Mahogany furniture, windows draped in lace and velvet sofa.
The BiederMeier look should not be overlooked: cane and top hat hanging on the coat-tree, secretary, parasol, pocket watch, wood serving table, dried flowers, silver candelabra, pearls, flower wallpaper, free-standing mirror, coloured porcelain coffee mug. In short, the best of Vienna in the 1800s.
A seaside atmosphere makes many people happy: hammock, shell curtains, straw mattress, wicker furniture, pebble mosaic, miniature boat, suspended kayak. The only thing missing is the wood structure with the perpetual movement of water.
Sixties pop culture will find its place among boomers: plastic sofa, Pop art poster, abundant colours, coco or abstract design carpets, round melamine table, stainless steel, spiral wallpaper, vinyl clothes and boots.
The culture of India with its shimmering cushions, poufs, bolster, warm colours and tissues that are found everywhere in Montreal should be considered. There's also Japan.
Megacities have everything it takes to provide their own decorative theme: New York, Paris, London, Venice, Mexico.
References:
Bruxelles surprises 500 coups de cœur, Derek Blyth, Mardaga, Bruxelles, 2013, 251 pages
Bords de mer, entre architecture et décoration, Noëlle Bittner, Éditions de La Martinière, Paris, 2013, 223 pages
Meubles et décors des années 60, Anne Bony, éditions du Regard, 2004, 223 pages
Photos: iStockphoto