Also known as "gyprock," "sheetrock" or "plasterboard," sheets of gypsum are found everywhere in the structure of modern houses. In fact, gypsum has become the reference material over the years. So what could be more natural than to choose this material to finish our walls?
You would think it wouldn't be complicated to buy this wall component. However, once you get to your building centre, you're faced with a variety of dimensions and colours. Which one do you choose?
First you have to know your needs. Are you going to use it in a regular room, or a humid area like a bathroom where air quality is very important, or a space that needs to be fire-resistant?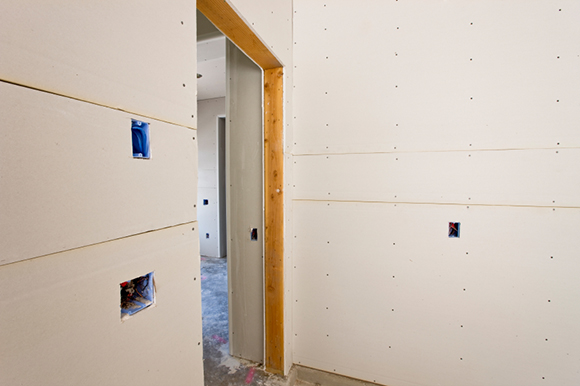 Regular room 
Choosing a light gypsum board makes it easier to install the ceiling. However, light gypsum board is less fire-resistant than regular panels of the same thickness.
Humid areas
Choose water-repellent gypsum, which resists moisture and humidity.
Air quality
Use GreenGuard certified gypsum which contains less than 0.5 mg/m3 of volatile organic compounds (VOC) and formaldehyde, which improves the quality of the air.
Fire resistance
There is a type of gypsum that contains an additive that makes it more fire-resistant than panels of the same thickness. Examples: for the garage, workshop and anywhere you want to slow a potential fire. But this type of panel isn't enough to protect the partitions around fireplaces and other sources of intense heat.
Once you've determined the type of gypsum, you have to consider the various thicknesses available on the market.
One-quarter inch (1/4'') panels, also called flexible panels, are generally used to follow the contours of a wall (staircase, arch) or a ceiling. It can also be used to cover a heavily damaged partition.
Three-eighth inch (3/8'') panels are used for partitions with an equal thickness.
One-half inch (1/2'') panels are generally used in renovation work.
Five-eighth inch (5/8'') panels are required by insurance companies in areas where the risk of fire is high, like a workshop or garage. They are more resistant to fire than thinner panels. They are also resistant to impacts.
Based on this information, it's easier to talk to someone at the materials counter and come to an informed and intelligent choice.
Photo: iStockphoto.