It's the biggest swimming centre in the world, but that's not where the interest lies. Rather dull during the day, the building turns into a marvelous blue at night. Seeing the moon reflect off this ice blue is a spectacle in itself. That's already enough to make the building stand out, but there's more.
What you have before your eyes belongs to an accelerating revolution in the field of building physics. The American pavilion at Expo 67 in Montreal, known as the biosphere today, was a first timid step, just like the famous house over the waterfall, the work of American architect Frank Lloyd Wright.
It's a revolution of organic architecture. The principle is simple: use organs of animated beings as inspiration to build. This revolution is riding the wave of recent scientific discoveries concerning nanofibers, intelligent textiles, plastic derivatives and other materials.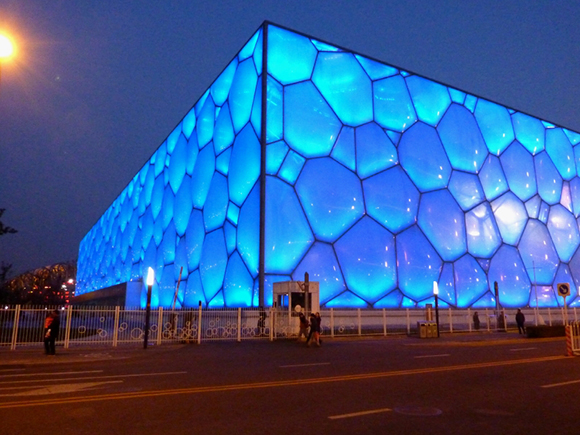 The national swimming centre in Peking, also called the Water Cube, was built for the 2008 Olympic Games. The outer shell, with its 3000 air bubbles, greatly imitates the way human skin works. Exploiting the sensual side of skin and the way it self-regulates in terms of temperature and pressure is becoming increasingly popular among architects.
After completing the metal structure of the Water Cube, workers spent four months placing the 3000 plastic air bubbles of various sizes over a surface of 100,000 square metres. Then they covered it with a transparent membrane composed of a revolutionary material: ethylene-tetrafluoroethylene, also know as ETFE.
The Water Cube is considered, with reason, to be a highly ecological building since it produces its own electricity and recycles rain water. The transparent membrane reduces energy consumption by one third.
For fans of monumental constructions, the Water Cube has 17,000 seats, which is just 4,000 less than the Bell Centre. Remember this: it's an aquatic centre that has nothing to do with a national sport. The Water Cube is nothing more and nothing less than a stadium. It cost the Chinese Community Party between 100 and 150 million euros.
The building area is 80, 000 square metres. The ridge is 177 metres long and 30 metres high. It was designed by the Australian company PTW and the British company Arup.
After the Olympics, the Chinese removed 11,000 seats. The building then became an aquatic leisure centre, the biggest in Asia.
There is a threat to the Water Cube. The enormous pollution that plagues Peking day after day regularly deposits dust on the building. The Chinese no longer know how to control it and fear for the building's luminosity.
Sports fans know that it was in the Water Cube that American swimmer Michael Phelps beat the gold medal record in the Olympics. A total of eight medals, including seven swimming records.
References:
French Wikipedia article on the Water Cube
La Chine de Pékin à Hong Kong, Guides bleus, Hachette tourisme, 2010, 959 pages
La Chine, Le petit futé Country Guides, 2010, 785 pages
Photo: iStockphoto LP