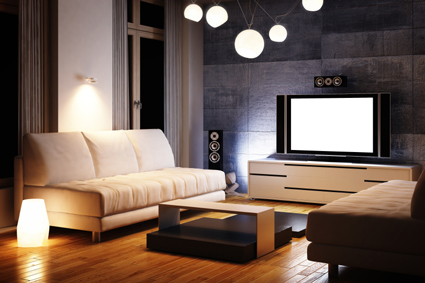 Asked to inform us about the main trends in the home market in 2010, a regional director of Expo Habitat immediately replied: "The contemporary style is becoming more popular to the detriment of other styles."
According to the home expert, as the years go by, more and more people are opting for straight, bare, almost translucent lines. A decor that is stripped down to the bare essentials. Everything becomes geometric, Cartesian, mathematical.
Fans of flamboyant colours may not be happy to hear that black and white are still the top colours, followed by neutral tones like beige, grey, brown, ivory and taupe.
There's room for less discreet colours like red and orange, as long as they're limited to a supporting role. They blend very well in the fabrics and materials that they highlight in a decor which, without these colours, would appear cold.
We haven't seen the end of floor tiles, concrete, decorative metal, glass and steel, granite, track lighting, abundant mirrors, vinyl and leather covering, modular cabinets and furniture free of ornamentation, reduced to their simplest design. Almost cubic.
The contemporary style relies on abundant light, flowing spaces and straight lines. Anything that can block the light is carefully avoided. Anything that clutters up the space is not tolerated. The word that best defines the contemporary style is frugalness. Everything is arid, no heaviness.
In many cases, the contemporary indoor decor makes up for its frugalness with fantastic designs. It lets decorative fun garner its place in the sun: lamps, hardware and accessories in often unconventional shapes.
Final whim in the contemporary style: the high tech ambience looms up from the decor. As if this style of decoration monopolized futuristic design. It really gives the impression that techno decor only feels at home in a room with a contemporary look. Weird!