Several factors can increase the value of your home. Investing in real estate is well known. Investing in art is too. But have you ever heard of investing in wallpaper or a wallpaper mural*?
Here and in Europe, artists are constantly reinventing the image of wallpaper and reusable wallpaper murals. Some works have even made their way into museums (Rasch.de).
In Quebec, at Muralunique.com, some thirty artists put their imagination to the service of this art form. For a universe dedicated to childrens' imaginations, Annie Giroux, Tony Floreani, Birgit Schulz, Ruth Baker, Johanne Pépin have created great murals: a wacky library, a line of sheep with round eyes admiring the baby's crib, a firehouse, a big wheel race, a hockey locker room, a construction site, a medieval castle, a space city, fantasy trees, enchanted forests, fairy tales, a pirate ship, giant alphabets, etc. Hours of passionate stories to share with children.
Donn Petelka uses a camera to plunge us into the bowels of nature, as shown by the attached photo of the Canadian Shield reproduced on a 15' x 9' (4.57m x 2.75m) mural. If all of the walls were covered with the Canadian Shield, we would probably feel the freshness of the caves.
Irene Miller with her "Bird of Fire" and Pierre Labonté with his "Fogged Untamed World" dig deep into the depths of the imaginary. You can spend hours of pleasure finding unusual shapes in these abstract works.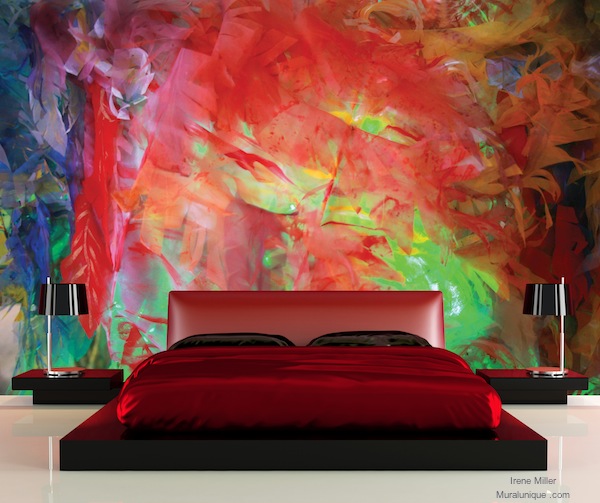 If you prefer fractal art, you will be provided with a blend of greys, blacks, beiges, creams and ochres in a series of curves. Fractal art involves producing images by computer, which creates graphs using a fractal caclulation (Wikipedia).
In Europe, each year Rasch.de produces 1000 new wallpapers and sumptuous murals created by international artists. The 2015 and 2016 trends are already out. Examples: Wave 2015 collections with soft 3D effects (attached photo); Barbara Becker's b.b. home passion 2016 of shimmering pastels; Magic Walls III and its tyrannosauruses and giant hearts, etc. It refers us to their Canadian distributor Prime Walls which stands out with its Hang model. The resemblance to hanging silk is so striking that it will leave you dumbfounded.
In Saint-Nicolas, Quebec, Raynald Bilodeau, artist, anthropologist and heritage advisor, has accumulated 2000 old wallpapers over the decades. His treasures date from the 18th, 19th and 20th centuries. Which wallpapers will reveal their secrets to you during the Quand les papiers peints s'exposent… les murs parlent! Exhibit? He promises us that we will "better understand the evolution and importance of wallpaper as a major decorative element" in the lives of certain Québécois.
*To determine the difference between wallpaper and wallpaper murals and other relevant information, consult the attached article About wallpaper.
We would like to thank for the information and photos, Pierre Cousineau of Muralunique.com; Christian Schütz of Rasch.de who also referred us the link to their Ontario distributor Prime Walls; Wikipedia for the French Art fractal artcile; Véronique Dumouchelle of the Centre de distribution des arts et du patrimoine Presbytère Saint-Nicolas for the Quand les papiers peints s'exposent… les murs parlent! Exhibit from October 19 to November 16, 2014 at the Presbytère Saint-Nicolas , 1450 rue des Pionniers, Historical Area of Saint-Nicolas. 418 831-5257. Free entry, voluntary contribution.