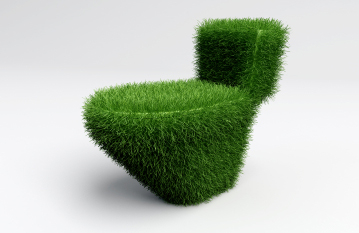 To some people, ecological toilets are a synonym for dry toilets. In searching for an alternative more adapted to our modern lives, I found two models and some great ways to be more ecological.
I found the first model, Eco Toilet Concept by designer Jang Woo-seoka, on buzzecolo.com. The concept literally floored me by combining two utilities, the sink and the toilet. The way it operates is simple: use used water when you wash your hands to fill the toilet tank so you don't waste our most precious resource: drinking water. It's a wonder that the concept hasn't already swept the Canadian market.
There are also models of compact toilets. Some have a macerating pump and an electric flush. With no external tank and using just 4 litres per flush, the toilet offers good opportunities when space or plumbing is a problem.
If you can't change your toilet right now, here are a few ways to save water:
– Choose a dual flush, which adapts the flow rate to your present need.
– Toilets are not your garbage or ashtray; use the flush as little as possible.
– Repair leaks in your toilet. The quickest and easiest way to detect them: put drops of dye in your tank and wait a few minutes. If your bowl changes colours without rinsing, you should repair your leak as quickly as possible.
– Install a water saving device.
– The easiest way, while keeping a sufficient flow rate so that you're not obligated to waste more water, is to fill a tight container, such as a bottle, with water and place it in the tank.
– You can also lower the rod equipped with a floater that regulates the water level in the tank.
– Use biodegradable products when you clean. The most well-known one is white vinegar.
– Don't forget to buy a flush regulator that will let you control your consumption.
Technological advancements in sanitary equipment allowed us to reduce our water consumption by changing from a 20-litre tank to a classic tank of about 4 to 6 litres.
Important fact: some municipalities, like Ville de Laval offer a subsidy program to replace regular flush toilets with low-flush toilets. Check with your municipality. Who knows? You might save some money and toilet water at the same time.
As an aside, did you know that there are restaurants in Asia where the decor is entirely devoted to… you guessed it: toilets? The Modern Toilet restaurants opened their doors in 2004 in Taipei.
Sources: Buzzecolo.com ;  Le Trait d'union, Ville de Laval ; Canoe.ca