The time has come to change your kitchen counter to make room for an induction cooktop that is revolutionizing the world of great and small chefs.
When looking to see if the William prototype had inspired new models in Canada, I found what I was looking for: the Full surface CX 491 by the German company Gaggenau.
But first, let me tell you about the Glen Beck William prototype. It's an induction cooktop that heats up to 21 saucepans at the same time! The 1500 independent hexagonal heating sensor-inductors detect the shape of each saucepan. They only allow induction cooking on the detected surface. A tactile screen is used to control the cooking for each saucepan.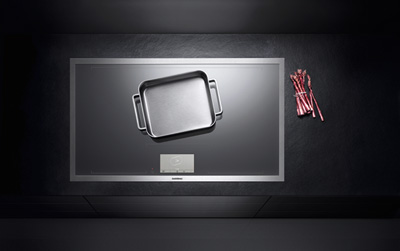 The William induction cooktop isn't available on the market right now. However, according to Pascal of Signature Bachand, the Gaggenau CX 491 has just been introduced in Quebec. Signature Bachand is the place to find leading edge appliances.
The Gaggenau Full surface CX 491 doesn't have 1500, but 48 micro-inductors that detect the shape, size and position of saucepans. A maximum of four. A tactile screen lets you control the temperature and cooking time of each saucepan.
The heat is produced in the saucepan, not in the cooking zone. No hot surface around the saucepan or after removing it. Messes are easy to clean.
One of the greatest advantages is that you can say goodbye to the double boiler and the slow cooker. The temperature remains constant, even if it's low. Any temperature adjustment is instantaneous. This means that we can cook our most delicate meals and simmer dishes without the risk of overheating.
The greatest advantage is the freedom to place a round, square or rectangular casserole dish wherever we want on the smooth ceramic glass surface. We can put them anywhere and any way. However, you can't use all casserole dishes.
How do you know if your casserole dishes are designed for induction cooking: If they have a ferrous metal bottom (steel or iron).
The reason: we need a magnetic material to transfer the energy (heat) to its content. Pyrex, copper and aluminium dishes are not appropriate.
All cooking surfaces require that you respect certain safety rules to prevent accidents and health dangers. An induction cooktop is no exception.
A safety notice has been issued in Switzerland for all induction surfaces. It's important that you read it.
Pascal, of Signature Bachand, told me that the Gaggenau CX 491 is the first of its type in Quebec. Gaggenau is testing the North American market with this model. Other models are only available in Europe or elsewhere in the world.
Links: