[caption id="attachment_187" align="alignright" width="311" caption="Wild carrot. Photo Alvesgaspar (Wikipedia)"]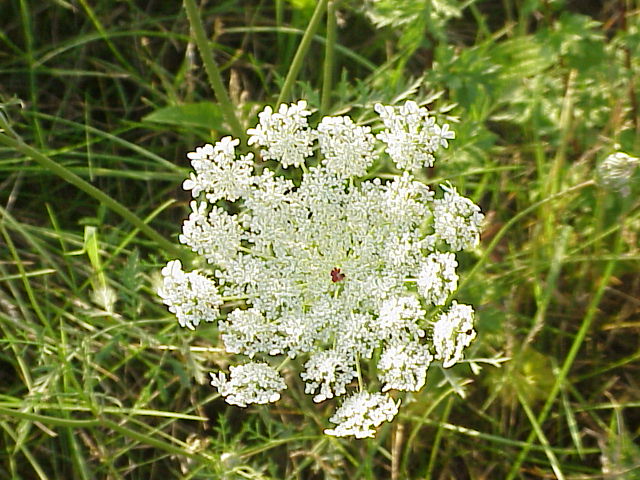 [/caption]
The umbel[1] of a wild carrot inspired American architect James H. Johnson. His Pod House, usually called Mushroom House, stands on 14 to 20-foot high pillars (4 to 6 metres).
Do you see a resemblance?
This unusual home took root in Perinton, New York. Built for a lawyer-artist couple in the 70s, it became an emblem of the city in 1989. A basement was added at the beginning of the 2000s.
It appears to have six "mushrooms" forming a star: two central mushrooms placed side by side, each one connected to two other independent mushrooms. They are all surrounded by windows. As you can imagine, it's highlighted by curves, both inside and out.
One of the units contains the sitting room. The cream ceiling brings to mind the texture of a paunch. Sliding windows equipped with rounded glass on each side blend with the half-circles of the ceiling. The concrete furniture incrusted with stones takes the shape of an inverted U. Cushions make everything cozy and friendly.
[caption id="attachment_186" align="aligncenter" width="480" caption="Pod House. Photo Daniel Penfield (Wikipedia)"]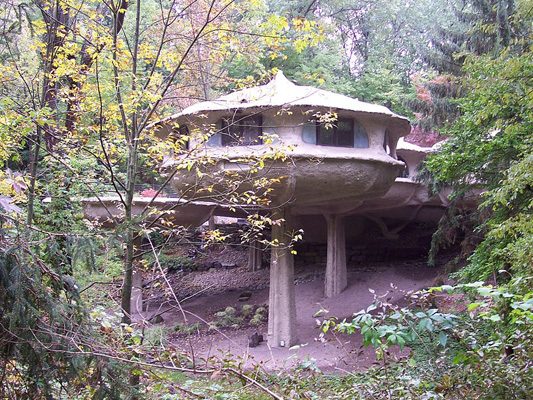 [/caption]
[……]