You can't finish all basement floors the same way as those on the ground floor. Sometimes water can leak into the basement when the snow melts. Here's a tip to give this sad concrete floor some style.
You'll find the model that suits you, regardless of the style that you choose. You could even be inspired by old and new patterns for linoleum. For example, you can convert your basement living room into a 1950s snack bar.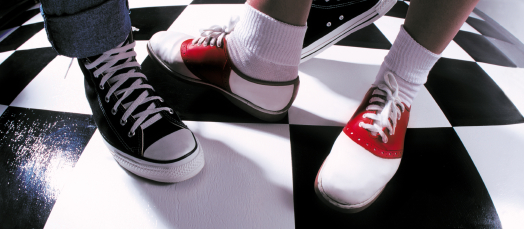 All you need is concrete paint tinted in the colours you like, and good quality masking tape.
First you have to clean the floor and let it dry completely. To use less tape and facilitate accurate trimming, apply the base colour (palest) first on the entire floor surface. The facing photo shows that two coats of white were used.
Then measure if necessary and outline your pattern with a lead pencil.
The photo shows a 24 inch by 24 inch checkerboard pattern, divided into 72 inch by 72 inch squares, circled by a 3-inch wide red band.
Don't apply the second and subsequent colours too quickly. Make sure that the previous paint is dry. Then apply masking tape around the sections that you want to paint (in black in the facing photo).
Repeat the procedure for other colours.
Of course the floor will always be concrete, but it will be much prettier to the eye and will be easy to maintain. It's a great start to mark the return of rock and roll in the living room. Or place your pieces if you'd rather play checkers or chess!
Photos : iStockphoto LP et Casarazzi