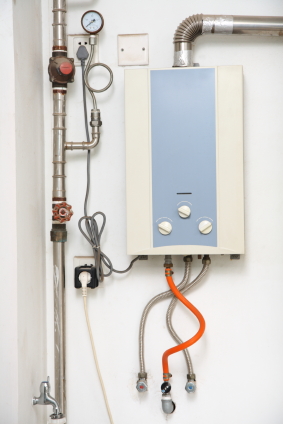 More and more people quiver in frustration as they impatiently watch water pour from the faucet, waiting for it to become hot enough. Many overseas countries don't have this problem.
During our trips abroad to Bosnia Herzegovina, Austria, Egypt or elsewhere, we noticed the small water heaters placed in strategic locations.
For example, in our small apartment in Sarajevo, the one in the kitchen sat above the sink. All we had to do was turn it on a few minutes before we washed the dishes. The water stayed hot enough to wash our hands for hours.
The little tank in the bathroom was always on. Perched in a corner above the bath, it was also used for the sink just beside it. If I remember correctly, the mini front-end washing machine was not connected to the hot water.
In Quebec, the water heater is central and is hidden in a cubbyhole. We waste litres of water every morning. The time it takes for hot water to go through metres and metres of pipes in the plumbing until it reaches the bathroom or kitchen sink. Imagine the waste from water heaters in the basements of two-storey homes!
We were sick of wasting our transparent gold, so we started looking for small water heaters. Hydro-Québec didn't have anything. However, we were in for a surprise when we looked on the websites of a number of water heaters (see links below).
We discovered water heaters without tanks—also called instant water heaters. They work on electricity, natural gas or propane. They have a long list of advantages compared to conventional heaters:
instant hot and heated water as needed;
no hot water waiting in tank;
no tank that leaks, causing serious water damage;
energy savings;
reduced storage space;
easy maintenance;
less expensive to buy;
longer lifetime.
Several models are available. Some of them produce the same amount of hot water as a 40-gallon tank. That's a lot more than the little tanks in Sarajevo.
With all these advantages, why are there so few instant water heaters in Quebec homes? In our research, we discovered in Protégez-vous.ca that in 2006 La Presse announced the end of conventional water heaters. The many comments available don't agree, especially when it comes to cash savings. And some models don't perform as well as others.
When we realize that we're wasting our transparent gold and we want to help save it, the balance weighs strongly on the side of the instant water heater.
It seems that this type of water heater is eligible for ecoENERGY Retrofit – Homes program offered until March 31, 2012. Consult the Government of Canada website for more information.
Sites consulted: Hydro-Québec, Dispaq, Home Dépôt, Sears, Protégez-vous et Gouvernement Canada.