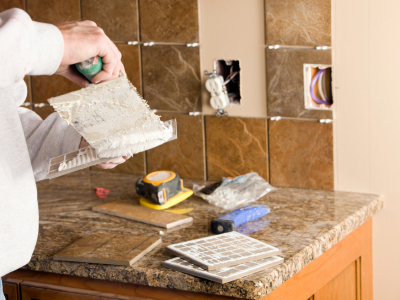 Roger wonders how best to use his home renovation budget this year. He'd like to install a pool in the backyard with new landscaping and up-to-date garden furniture on a chic new patio. He thinks that would surely increase the resale value of his house, in addition to improving his family's quality of life. After all, you only live once!
However, relaxing in his bathtub, he notices that the bathroom could use a makeover too. What should he do? If increasing the resale value of your home is an important consideration for you, installing a pool has no positive result. In fact, it can sometimes have the opposite effect.
According to CAA Quebec, kitchen and bathroom renovations yield the best return on investment. Same finding from the Association provinciale des constructeurs d'habitations du Québec.
The RENOVA study by the Appraisal Institute of Canada (AIC), cited by CAA Quebec, informs us that energy efficiency is an increasingly important factor in renovations with a high return on investment rate. Energy efficient doors and windows, a quality heating system and insulation meeting high standards are all profitable.
Your judgment is also a good guide. If the roof leaks, it's best to prioritize its repair, even if that's less profitable. The future buyer will appreciate a well-maintained home, even if the bathroom is less modern. It's reassuring to see that the previous owner took care of his home, and by doing so, avoided problems and surprises that negligence could have caused.
So make sure that the electric, plumbing and heating systems work well and that basic structures such as the porch, steps and siding are in good shape.
Renovations like adding a garage, finishing the basement, new flooring and installing a fireplace also have an impact on a property's resale value.
For more information, visit the CAA Quebec and APCHQ websites.