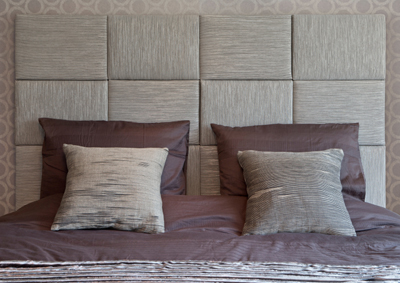 Do you want to put together an original headboard? Let your imagination and creativity run wild to make this future work of art a reality! A personalized touch makes all the difference.
The project design starts with how much you're willing to invest in terms of time and money. Is it going to be a one-day project or one week? Or is it simply the pleasure of building something with your own hands, regardless of the time it takes. How much are you willing to spend on materials?
Here are a few ideas for an unparalleled result in your bedroom:
A curtain rod the width of the bed or the entire wall has a thousand and one possibilities. Simply hang some see-through fabrics for a little romanticism. Light cotton with back lighting for intimacy or velour for the passionate. Storage pockets, discreet or otherwise, integrated with certain fabrics can be very useful. Regardless of your style, fabric creates a more subdued ambiance and muffles sound.
Without a rod, you could attach shawls, a blanket, a woven fabric, embroidery or a silk painting to the wall.
A mosaic of frames, photos, fabrics, mirrors could also express your creativity.
Those with stronger manual skills could align and glue branches of wood, such as bamboo. They could also tie them. The branches are easier to carry if they're planted in a base of solid Styrofoam or mortar covered in wood.
Branches combined with materials such as wrought iron, glass, shells, false precious gems, pieces of cloth, etc. reproduces predefined shapes like flames, waves, windows, shelves or abstract art.
Quick and easy to do: an upholstered headboard or one covered in padding and a stylized fabric. Cut out the desired shape on a sheet of plywood. Cover it with padding and a fabric or leatherette. Adding buttons, nails, tassels, etc. will add a professional touch to your work.
Mouldings or a hand-painted design will perfect a more stylized contour.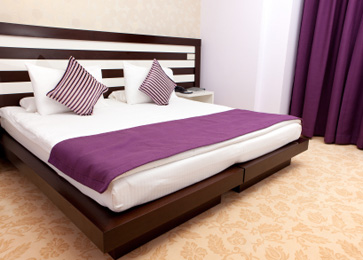 If you like to read in bed, why not build a bookshelf? Add sliding panels which, when closed, let you read with your back against cushions.
My favourite suggestion: nests spread here and there in the wall. However, make sure to check for electrical wires before building them. Nests offer the dual advantage of keeping available floor space intact and providing depth to the room, especially if you add lighting.
Lastly, have you ever tried putting your bed in a corner of the bedroom? A corner bed opens the door to greater depth effects, thanks in part to lighting effects. After all, you have to keep the basic principle of decoration in mind: good lighting highlights your decor.
Here are some interesting links to build your headboard: Pratico-pratiques.com ; Coup de pouce.com ; Côté maison.fr ; Tête de lit capitonnée.fr.