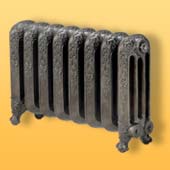 Are we the only ones to have suffered from the cold and humidity of the last few months? The only ones to dream of more clement weather?
Even with electronic thermostats in the house, we would get a chill when the sun set. A colleague spoke to us about radiant heating, but with electricity rather than heating oil. You remember those iron radiators that we used to see in our grandparents homes. The ones that they used to say "weighed a ton."
Everybody agrees that hot water hearting is one of the best systems for the occupants' immediate surroundings. Water stays hot longer and the iron stores the heat to spread it more evenly to surrounding objects. Apart from the odour, many people are put off by the cost and maintenance of radiant heating with heating oil. And then there's the noise caused by water freezing in the pipes. That's why electric baseboards became the norm, even though the air is "cooked," resulting in temperature changes every time there is the slightest current of air.
Radiant heating made a comeback for ecological reasons. Water has been replaced by recycled antifreeze from car radiators. No more banging pipes!
Since heating oil/natural gas lost 15% of its heating potential, a Quebec company, Ecorad, has chosen electricity as the power supply. Electricity conserves 100% of the energy potential from the heat produced by radiant heating, with electronic thermostats being recommended.
Before you start on those spring renovations, think about the comfort of coming falls, winters and springs. If recycled electric radiant heating appeals to you, here's the link to Quebec company Ecorad of Saint-Jean-Port-Joli, which recycles and maximizes the efficiency of old iron radiators.
The old radiators are stripped and repainted with a water jet process to avoid losing the energy potential of numerous coats of paint. You can choose the finish that fits with your decor, from translucent, which reflects the natural iron, to more vivid colours like red, yellow, blue and green, or even neutral colours like grey, black, white or brown. You'll find yourself with one or more rooms rich with history. And no more chills!