Before your eyes is not a commonplace block of concrete: it's an upscale concrete countertop!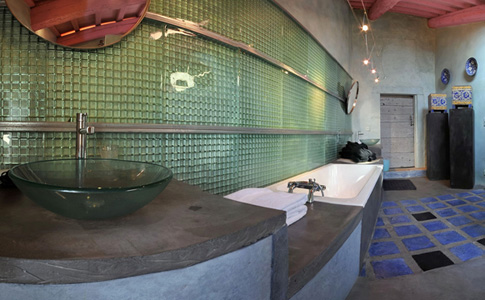 Concrete and creation are of the same piece. Concrete lets you mold complex parts, hold diverse parts together and inlay materials such as copper, glass, wood, shells and more. It adds a personal touch to a finished product. Gorgeous, long-lasting countertops enrich your decor and your environment for years to come.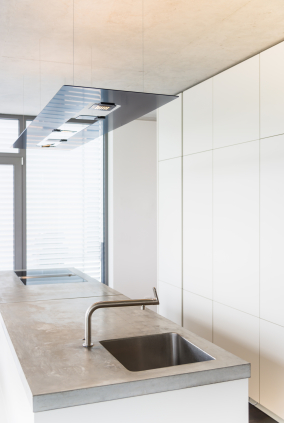 In the kitchen, you imagine a counter with clean lines flowing from the sink to the dish drainer, and then on to the trash can.
In the bathroom, you dream of two sinks sunk into a countertop with an open base for storage, like that on the attached photo of the Columbo Hotel in Sri Lanka.
Materials in the marketplace include countertops in polymer concrete and fibreglass concrete. The first is a blend of cement, sand, polymer and water. The second—fibreglass concrete—replaces crushed stone with recycled glass.
The Société des alcools du Québec (SAQ) invests in research to recycle the tonnes of glass that it produces every year. Concrete seems like a good solution. The SAQ Research Chair for Recovery of Glass in Materials (La Chaire SAQ de valorisation du verre dans les matériaux) at the University of Sherbrooke states: "Glass can replace a portion of cement or even the aggregates that make up concrete."
The price of concrete countertops depends on the complexity of materials and the desired shapes and final appearance.
Pascal Lareau of Larreau sur mesure discusses the subject: "It costs about five times more to use a white cement base rather than conventional cement. You're no longer limited to grey or beige which, combined with yellow, nonetheless yields a warm brown. White cement lets you create colours like cream, pink, blue, etc. The material that you combine cement with also influences the final colour. Recycled glass offers more options than sand."
The other variable that defines the quality and price of a concrete countertop is the molding. The creation of a unique mold with a metal frame requires expertise. "Tightly-packed, vibrated concrete becomes very compact and fits all types of molds without leaving air pockets. In the absence of a vibration table, you could use a good concrete plasticizer (softener). But that could affect colour," says Pascal.
The finish also plays a role, he adds. "To avoid fine cement dust in a room over time, you have to apply a finish. A transparent temperature-resistant seal, once sanded and covered with wax, resists heat and liquids such as oil, wine and water."
Light polishing helps retain the milky aspect of concrete. Deeper polishing highlights the colours of diverse elements. The Concept béton website is a good place to see various finishes.
Would you like to experiment with concrete countertops? Designer Fu-Tung Cheng offers a book with a DVD to guide you step by step. Several websites recommend the book, which is available on the Cheng Design website. Take a look and marvel at Fu-Tung Cheng's many creations. They'll give you plenty of ideas, and soon—with or without a designer—your own creation will make you vibrate.